According to a reader of The Independent, an elderly hawker passed away earlier this year after working 18-hour days to avoid hefty penalties when NTUC Foodfare rejected his appeal to shorten his operating hours when his helpers went on leave.
The reader, who declined to be named, said that she rented a stall for her father at the food court at Changi Airport terminal 4 since they trusted that it is "a government link organisation who will have the best interests for our people."
The reader soon came to regret her decision. She said: "Unfortunately, during Chinese New Year in 2018, I saw the first situation of how an elderly hawker was being bullied by NTUC Foodfare."
According to the reader, the elderly hawker – who operated 2 food stalls (stall number 6 and 7) at the same food court where her father works – applied to NTUC to shorten his operating hours for the first two days of Chinese New Year when some of his staff returned to their home country for the holidays.
Besides allegedly rejecting the appeals, NTUC Foodfare apparently warned the elderly hawker that he would have to pay a hefty $500 penalty for each day he closes. The reader said that the elderly hawker decided to run the stall himself and worked from 5am-11pm daily to avoid the penalties.
The hawker's efforts, however, cost him his life. Our reader shared: "On the second day of Chinese New Year, he suddenly felt unwell and was rushed to the hospital; he passed away in the hospital."
According to the reader, the hawker's "heart surgeon confirmed that he collapsed as he was overworked."
Over the next 6 months, the deceased hawker's devastated family – who had apparently decided not to go ahead with the hawker business with Foodfare – tried to get back the over $40,000 deposit the elderly hawker had paid to NTUC Foodfare.
The reader shared: "For 6 months, NTUC did not return this money to his family, and his family had to continuously apply to NTUC to get their money back. Ultimately, they only got back 50% of it as it was indicated that 1 of the stalls was signed under a company and the other one was signed under sole proprietorship."
Our reader also shared how her father was slapped with a hefty $3500 penalty for closing his shop for a week after suffering an injury.
Sharing screenshots of his correspondence with NTUC Foodfare representatives, the hawker's daughter wrote that his father was forced to work double shifts a day at the stall to avoid penalties for closures, even after fracturing his foot while working, due to the shortage in manpower:
"In June 2018 this year, my father was injured while working in the food stall. We have constantly been facing staffing issues as we were not allowed to hire foreigners and less Singaporean and PR are willing to take up a job in a food stall. Due to that, my father had to work 2 shifts a day in order not to get a penalty from NTUC Foodfare."
Her father, however, was forced to take a break when the injury worsened. The hawker's daughter lamented that NTUC Foodfare slapped them with a hefty fine for stall closure, despite her attempts to explain the situation to them:
"However, as his injury was too serious this time, we had to close the stall for a week. I wrote to NTUC Foodfare to seek their understanding on our situation and that we could not find a head chef right immediately to take over my dad. NTUC Foodfare ignored our explanation and instead slapped us with a $3500 fine."
The email screenshots the hawker's daughter shared with us shows that her father suffered a bone fracture in his foot and that her father was hospitalised for this injury that he sustained during the course of running the stall.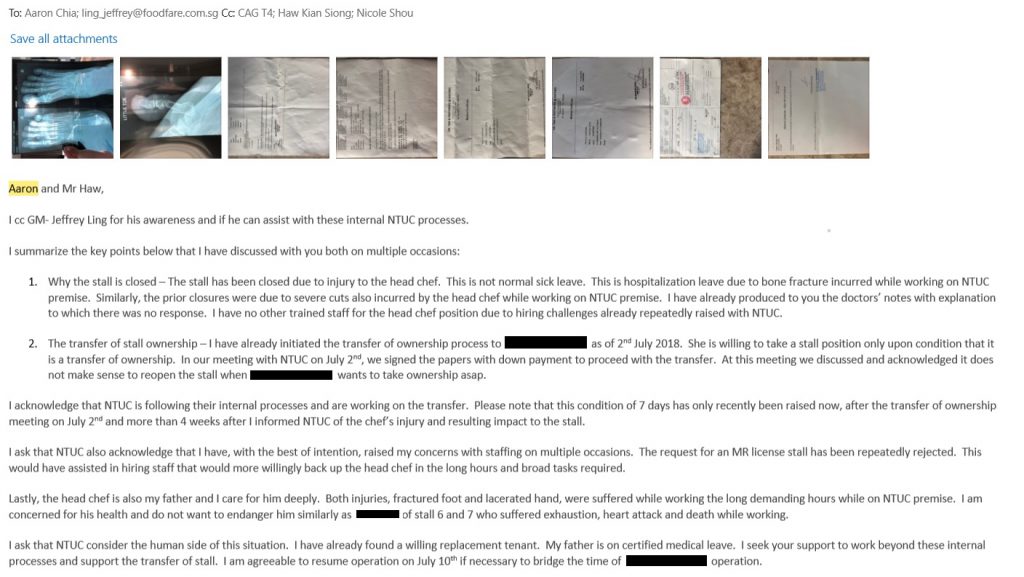 Besides sharing the hospitalisation leave chits from the hospital with her explanation into why the stall needed to be closed, the hawker's daughter also provided NTUC Foodfare with X-ray scans of her father's fractured foot.
The email correspondence that was sent to us shows that an Assistant Operation Manager named Aaron Chia from NTUC Foodfare's Retail Division sent this response to the hawker's daughter. This response is CC'd to Chia's colleagues:
"Kindly take note that as a stall operator, we cannot take into the consideration that one of the staff is down due to unforeseen circumstances and that is no one else back up and to manage the stall. More importantly, there should not be only one person operating the stall."

The hawker's daughter lamented: "It is saddening to see how a government link food operator who claims as a non – profit organisation being so inflexible and ignores the health situation of their tenants.
"Perhaps this is how they managed to have money to buy over Kopitiam – rumoured to be purchased at $400 million. These two stories are a sample among many of preying upon those who may be aged, illiterate or small stall owners."