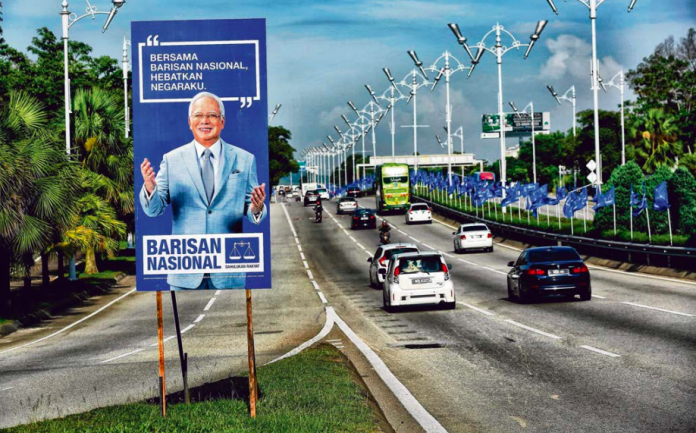 Shannon Teoh Malaysia Bureau Chief In Kuala Lumpur
Prime Minister Najib Razak is confident of a "better result" for his Barisan Nasional (BN) coalition when Malaysians head to the polls in two weeks, despite a turbulent five-year term that has resulted in an unprecedented challenge to the pact's grip on power.
For the first time, the Umno-led pact must face an opposition led by a former premier in the shape of Tun Dr Mahathir Mohamad. Malaysia's longest-serving leader, he quit the ruling party after falling out with Datuk Seri Najib over graft allegations linked to 1Malaysia Development Berhad (1MDB).
"We are reasonably confident of a good result. There is no movement for changing the government, I don't see that. That's not saying we will win with a huge majority, no I am not going to predict that, but I am going to say that we are reasonably sanguine about the result," the 64-year-old Mr Najib told Bloomberg in an interview published yesterday.
He cited the departure of Parti Islam SeMalaysia (PAS) from Dr Mahathir's Pakatan Harapan (PH) alliance, after the Islamic party played a crucial role in coralling support from the Malay majority. The Umno president also said that urban and Chinese voters who in 2013 voted for the opposition, confident they were ushering in a new government, are now less motivated.
"Now today, they know it's not possible. So I think that euphoria has receded to a great extent," Mr Najib said.
His government has also set about wooing the crucial Malay electorate, which forms the majority in more than half of the country's 222 parliamentary wards. Handouts for civil servants, farmers and poorer Malaysians largely benefit this community, who Mr Najib and others in Umno have repeatedly warned would be in danger of losing dearly held pro-Malay and Islamic policies if the opposition came to power.
"There has been a decline of Malay support for BN from 61 per cent to 53 per cent since the last election," observed Mr Ibrahim Suffian, who heads Malaysia's top pollster Merdeka Center. He noted, however, that this level of support is still above the 47.5 per cent of Malay votes needed for BN to maintain its 2013 majority of 133 seats in Parliament.
Analysts note the administration's efforts to skew the election in its favour. New electoral maps were approved just days before Parliament was dissolved this month, a move critics say will ensure the government wins more seats even if it fails to better its 2013 tally of 47 per cent of the total vote. Despite losing the popular majority for the first time in the last election, BN still won 60 per cent control of Parliament.
Dr Mahathir's party was also suspended by the Registrar of Societies, forcing it to use the logo of opposition icon Anwar Ibrahim's Parti Keadilan Rakyat (PKR). Parti Pribumi Bersatu Malaysia (PPBM) has this week won a stay of this decision, just ahead of Nomination Day tomorrow.
New rules by the Election Commission mean Dr Mahathir, 92, cannot appear on campaign materials because he is not a leader of a party officially contesting the polls.
The commission also set Polling Day on a Wednesday, making it difficult for largely pro-opposition voters living in urban areas and overseas to return to their home towns to cast their ballots.
Penang Institute's Wong Chin Huat said that with the new electoral maps, "PAS in the spoiler role and a low turnout (due to a weekday vote) all working together, you have victory for Najib".
In the last days of Parliament, the government rushed through an anti-fake news law that carries a maximum jail term of six years, and is seen as a means to stifle dissent. Mr Najib denied this in his interview with Bloomberg, saying "I can accept" criticism and that Malaysia's social media is "freer than many countries".
Criticism surrounding financial mismanagement at 1MDB has weighed heavily on the premier, after US$700 million (S$929 million) allegedly linked to the state firm was deposited in his personal accounts. He has insisted the money was a donation from Saudi royals, and has been cleared by Malaysian authorities of any wrongdoing.
SPH/ST