A photo of an elderly man begging passers-by to buy tissue packets from him has led to many questions raised about the aid given in the form of The Pioneer Generation Package.
The photo, contributed to Facebook page All Singapore Stuff, saw the man hunched over, with a walking stick next to him, at Bedok MRT station. He was photographed with a lady buying tissue from him.
https://www.facebook.com/allsgstuff/photos/a.1993158977491488/2762246297249415/?type=3&theater
The scene was captioned, 'Seen at Bedok: Poor old man begging people to buy tissues from him. Why are our elderly living like this? What Generation Package? Doesn't seem to be helping this uncle lei'.
According to its official website, those eligible for The Pioneer Generation Package have to meet two conditions; be aged 16 and above in 1965 and have obtained citizenship on or before 31 December 1986.
Under the package, elderly people are given additional subsidies on top of already subsidized services. Cash of $1,200 a year is also given to those with moderate to severe functional disabilities under the Pioneer Generation Disability Assistance Scheme.
Instead of asking how the man benefits from The Pioneer Generation Package, a more adequate question posed might be pertaining to what aid the man receives at all.
Netizens who commented were upset about the plight of the elderly such as this man.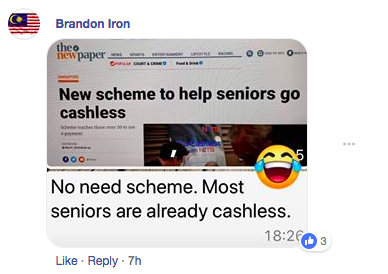 ________________________________________________________________________
obbana@theindependent.sg
Follow us on Social Media
Send in your scoops to news@theindependent.sg