Following the saga where a Singapore permanent resident was called out and subsequently let go from DBS Bank after posting an image of a ripped Singapore flag, former Nominated Member of Parliament (NMP) Calvin Cheng has spoken out. He expressed his disapproval for the "type of 'national pride' that stirs up online mobs to anger whenever they feel a foreigner has insulted Singapore or Singaporeans online".
Mr Avijit Das Patnaik was counselled for a Facebook post he shared, which showed a T-shirt with a picture of the Singapore flag being torn, revealing an Indian flag underneath.
In a statement released by DBS Bank about the incident they said, "DBS strongly disapproves of such actions by our employees. At the same time, it is fair and right that all employees are given the benefit of due process".
The bank also added that, "Since the incident, a disciplinary committee has been convened and as of 24 August, he is no longer with the bank".
While it is unclear as to whether the bank terminated Mr Patnaik, or if he resigned, a spokesperson from the bank told the media, "we have nothing further to share beyond the post".
The entire incident sparked a Facebook post from Cheng, who wrote, "There is a segment of society in Singapore that displays a type of 'nationalism' and 'national pride' that I don't approve of".
https://www.facebook.com/calvinchengnmp/posts/1973389922711074?__xts__[0]=68.ARDpLRrgcwHLvveCqLH0saDkGkHeiWY46nyVpt2kd6_rI6MeSNnwg1GWJ8rW39E37CyxTrGWaFOP1D9uOrl0Cpcf7X2OP7JU5ISpSb2CBIxJbvsd_n9ABX6T3TBrkmTXDQrny1k&__tn__=-R
He continued in his post that the behavior of harshly punishing the offender, "is behaviour not exclusive to Singapore and is unhealthy. It's the kind of 'national pride' that starts wars, or domestic riots against 'outsiders'.
It is also a 'national pride' that is based on insecurity, not strength.
The people of a strong, secure country are confident enough to laugh off these slights, and not be baited into an angry frenzy.
We are a developed country, one of the richest in the world, and one of the most educated.
But sometimes the way we act is still of a small people from a small country."
He concluded his post saying, "Come on Singapore. We are better than this".
Netizens who commented on Cheng's post disagreed, adding that he had defiled the Singapore flag and that he deserved punishment.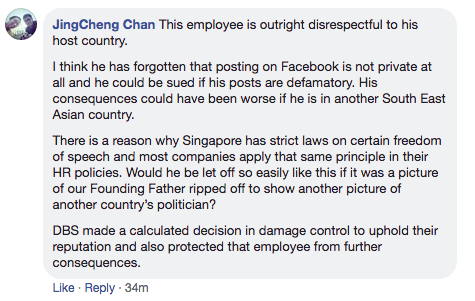 ________________________________________________________________________
obbana@theindependent.sg
Follow us on Social Media
Send in your scoops to news@theindependent.sg