Itsrainingraincoats has a Facebook page that describes the group as "A simple initiative to spread kindness to migrant workers in Singapore!" The people in charge of the page are unidentified, but apparently, they perform services to migrant workers around the country, including distributing food from Starbucks, Ang Pao packets of backpacks, caps, power banks and umbrellas, Christmas gifts, and other generous deeds.
The award-winning volunteer group has spread joy to thousands of migrant workers.
On January 7, one of the people from the group posted about an encounter with one particular migrant worker whom they had the opportunity to meet that day at Gleneagles Hospital when they went for a checkup.
https://www.facebook.com/itsrainingraincoats/posts/2243086056013909?__xts__%5B0%5D=68.ARBKNRKzc5i6Kzh862UJeQHtqabMJqZ1eReUU_YuOVbdMD4txTHoFlrGEvg9eEzRFSc-Lc8g5TQINlqbf6z8PN4vnMBuqc2NOSq7uXQSJdudko24SvE8BbMz8RCaRglBuOds88sJKBaaLkTegAV5cl6yLDDjUjgvI0fTl400x8nH_X9W6I3MvjVefErs9NhQLrLT6Ncb3jRP5dZBH3J_i4msie496Kmqo4S0wrvzq8wi-tlzpSEoXmzeth_mko-7ay-Qp527gyU1klU2ZNQjERtW-ph6f_TcRmLrGexcp-z5Y3rm3alcmloy9PyTKw&__tn__=C-R
The leg of the worker had been very badly injured in a work accident, needing a metal plate and screws, and rendering him unable to walk for almost three months. However, he was given a fit for light duty certificate.
The poster said that he left his contact information with the man should he need additional help, and was grateful that the man's employer was still paying his salary and providing food and lodging for him.
He was the most impressed with the man's attitude, however. The worker did not act like a victim, though he was married only 4 years ago but is unable to go back home next month as scheduled. He also refused to worry his family, telling them only that he is now on night duty by way of explanation for why he can talk to them in the daytime.
The injured man was peaceful and cheery, causing the poster to write, "Such grace, strength, and dignity in the face of adversity. I shall send a prayer up for him tonight. I hope you all do too."
Sympathetic netizens wrote in their positive experiences with migrant workers as well.


Others expressed their well-wishes.

Yet others praised the employer for doing the right thing and continuing to support the worker.


Some netizens responded with prayers for the man, as the poster had requested.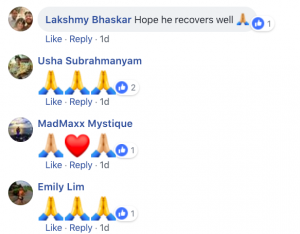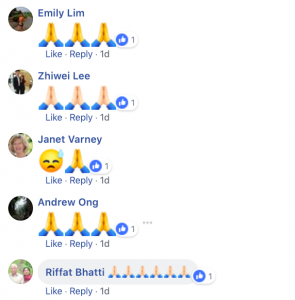 Read also: Singapore "freegans" share treasures from dumpsters to migrant workers
https://theindependent.sg.sg/singapore-freegans-share-treasures-from-dumpsters-to-migrant-workers/Follow us on Social Media
Send in your scoops to news@theindependent.sg