Workers' Party (WP) Chairman Sylvia Lim regaled her constituents with a special Malay song and dance performance at the Kaki Bukit Division Aljunied GRC Hari Raya 2018 celebration, recently. Although the event was held on 18 July, a video of Lim crooning the Malay song like a pro has recently gone viral on social media.
In the video, Aljunied GRC volunteer Azman begins singing a duet with Lim as back-up dancers dance alongside Azman and the WP leader. The crowd can be heard going wild with applause when Lim starts singing and the audience continue cheering whenever Lim sings her parts:
https://www.facebook.com/rilek1corner/videos/1962916167074837/
The administrators of Facebook page Rilek1Corner, who shared the video online, wrote: "Fuuyoooh Workers' Party Sylvia Lim singing Hari Raya song like a pro siol!!!" Netizens responding to the video were captivated by Lim's performance and praised her for being sporting and well-rounded: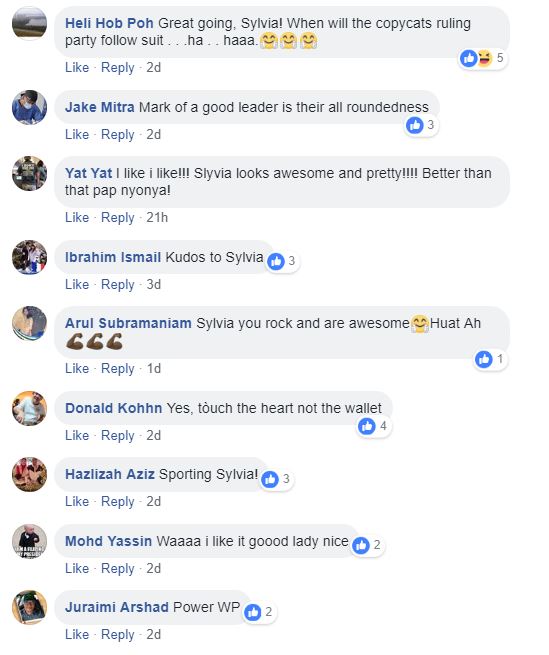 This is not the first time that Aljunied GRC MPs have immersed themselves in celebrating Singapore's holidays with their constituents.
Even as long ago as seven years ago, the MPs made the effort to dress in Indian clothes to celebrate Deepavali along with Aljunied residents. Lim even shared a short story on the significance of Deepavali, peppered with some Tamil words, to the residents' joy:
https://www.facebook.com/aljuniedcommunity/videos/10150568125044062/
Earlier this year, another Workers' Party parliamentarian made a splash at a Chinese New Year community event, charming both constituents and netizens.
The opposition party's secretary-general Pritam Singh made a grand entry as god of prosperity, Cai Shen Ye, at the Aljunied GRC Lunar New Year Dinner Celebration in March. Videos capturing the event saw constituents lap up Singh's jolly performance as he threw chocolate gold coins in the air:
http://ww2.theindependent.sg/wp-mp-pritam-singh-makes-an-appearance-as-god-of-prosperity-at-aljunied-grc-cny-dinner/Follow us on Social Media
Send in your scoops to news@theindependent.sg