Echoing the views of blogger Roy Ngerng, The Online Citizen editor Terry Xu has claimed that it is an "inevitable outcome" that Singaporeans will "have to go on the streets like the Hong Kong citizens" only to find out that "your vote no longer counts" in the future, if they do not vote for change in the upcoming General Election.
Mr Xu made these remarks in a Facebook post and comments on Tuesday (8 Oct) after he shared a post by Mr Ngerng – a Taiwan-based Singaporean blogger who had urged Singaporeans to vote for a "fairer" Singapore now instead of waiting "until it is too late, when you finally have to go on the streets and fight."
Agreeing with Mr Ngerng's comments, Mr Xu wrote: "I agree with Roy Yi Ling Ngerng. Do you want to wait for the day that your kids have to go on the streets like the Hong Kong citizens before wanting to make a difference with your vote, only to know that your vote no longer counts?"
In response to a netizen's view that it is not right to compare Singapore's situation to Hong Kong in the comments section of his post, Mr Xu warned: "When you have no rights and treated as second class citizens, it is an inevitable outcome. Just look at history."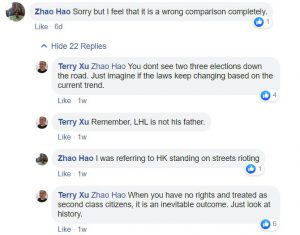 While certain figures like Mr Ngerng and Mr Xu are drawing comparisons between Singapore and the situation in Hong Kong, the Singapore Government has expressed a different view.
Last month, law and home affairs minister K Shanmugam noted that protesters are always put in a positive light as democracy fighters while the police are put in a negative light. He added that the attacks against the police are not captured but their responses give rise to "unfair criticism."
Speaker of Parliament Tan Chuan-Jin also linked a scheduled Yale-NUS course on dissent and civil disobedience that was to be run by local activists Alfian Sa'at and Kirsten Han to the unrest in Hong Kong. Mr Tan had asked whether the course – which was scrapped at the last hour – was necessary in Singapore given situations like the one unfolding in Hong Kong.
Yesterday (15 Oct), Prime Minister Lee Hsien Loong warned that Singapore could go the way of Hong Kong if it not careful. Warning that Singapore is not immune to the underlying factors that led to the Hong Kong protests, PM Lee said that social division can befall Singapore if it is not careful.
He added: "If it happens to us…we will suffer the same consequences as the other countries. Only worse, because we are that much more vulnerable." -/TISG