Singapore—Nasi Lemak, a spicy coconut rice dish, has been well-beloved for many years not only in its native Malaysia, but also in Singapore, Brunei, and Thailand.
Recently, however, a chat group on the messaging app Telegram, with the name SG Nasi Lemak, left people with a bad taste in their mouths when it was discovered that photos of nude women were circulated on the group, which at one point counted over 44,000 members who had allegedly paid an entry fee S$30 to get into the group.
Complaints about the Telegram chat group went to the police earlier this year, and from March through October, police carried out investigations into the matter.
On October 4, the police said they were investigating SG Nasi Lemak, due to suspicions that nude photos of Singaporean women, allegedly including upskirt pictures, were being shared in the chat group.
On Monday, October 14, four men had been placed under arrest.
By the following day, these four men, 17-year-old Abdillah Sabaruddin; 19-year-old Justin Lee Han Shi; 26-year-old Leonard Teo Min Xuan, and 37-year-old Liong Tianwei appeared in court via video link, and were charged under Section 292(a) read with Section 109 of the Penal Code, Chapter 224 with conspiracy to commit distributions of obscene materials, specifically one count each of transmitting obscene materials by electronic means.
Messrs Lee, Teo, and Liong have been accused of committing the offence between January and October 2019. And on October 5, Mr Abdillah was said to have shared an explicit picture of two naked women. If they are found guilty, the men may receive a jail sentence of up to three months, be fined, or both.
And now, a new SG Lemak Telegram group has been launched. As of Wednesday afternoon, October 16, 243 members had joined the group. Its tagline is "Unadulterated Nasi Lemak content."
The new group focuses on sharing photos of the actual delicious dish, instead of photos of nude Singaporean women.
Netizens have been delighted at the creation of the new group. An article on media outfit mothership.sg about the new 'wholesome' SG Nasi Lemak group has been shared over a hundred times since it was created, causing, no doubt, a flurry of searches on people's Telegram accounts, and a rush to join the group.
One netizen named Ken Tan shared the post and cleverly wrote, "Bringing food porn to another level."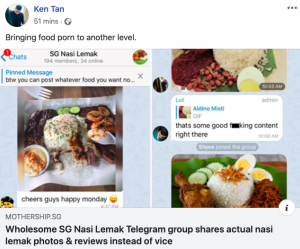 Another commenter named Jason W. Derek punned, "I prefer rice over vice."

Others were thrilled to discover different chat groups that center around food.

Commenters are now jokingly clamoring for Telegram chat groups to be made for Orh Luak, (oyster omelette), Kuey Png, (chicken rice), bwa cho bee (minced pork noodles) and Sg roast duck.
Another netizen asked whether "crispy rendang" was a subtopic in the group.

All in good, clean fun./ TISG
Read related: Youngest SG Nasi Lemak member arrested for circulating nude photos via Telegram only 17
Youngest SG Nasi Lemak member arrested for circulating nude photos via Telegram only 17