To support Singapore's bid to have hawker culture included in UNESCO's Representative List of the Intangible Cultural Heritage of Humanity, a 14-member nomination committee has been formed, and Singaporeans are enraged that only one member is a hawker (who considers himself semi-retired). And let us not forget the one other member who is friends with many hawkers.
Singapore's hawkers have had a hard time of it lately, with "social enterprise" and privately-run hawker centres piling hawkers with all sorts of stiff charges for rental costs, coin-changing services, tray returns, inspections and early closures. All this madness comes alongside Singapore's nomination of its precious hawker culture.
On Monday, October 22, 14 Singaporeans were selected to help "oversee and lend guidance" to Singapore's efforts to get our hawker culture the coveted UNESCO list.
Coming from varied public and private sectors, members of the committee will give feedback and make recommendations on the nomination documents, which have to be submitted to UNESCO in March 2019.
The committee members are prepared to offer "ideas to strengthen Singaporeans' pride and love for hawker culture" and encourage communities to support the nomination.
After Prime Minister Lee Hsien Loong announced during the National Day Rally in August that Singapore will nominate its hawker culture into the UNESCO cultural heritage list, more than 30,000 Singaporeans have pledged their support for the bid online.
The 14-member committee will be in tenure until February 2021.
Here are the members of the nomination committee:
The co-chairs:
1. Chang Hwee Nee — Chief Executive Officer, National Heritage Board
2. Tan Meng Dui — Chief Executive Officer, National Environment Agency
3. Yeo Hiang Meng — President, Federation of Merchants' Associations, Singapore
The members:
4. Puvan Ariaratnam — Director (Character & Citizenship Education), Ministry of Education
5. Chua Mui Hoong — Editor (Opinion), The Straits Times
6. Lily Kong — Provost, Lee Kong Chian Chair Professor of Social Sciences, Singapore Management University
7. Jack Lee — President, Singapore Heritage Society
8. Lim Gek Meng — Vice-President, Federation of Merchants' Associations, Singapore
9. Anne Loh — President, Slow Food Singapore
10. Jesher Loi — Director, Branding & Marketing Development, Ya Kun International Pte Ltd
11. Suriani Suratman — Senior Lecturer (Department of Malay Studies), National University of Singapore
12. Denise Tan — Director (School of Hospitality), ITE College West
13. Andrew Toh — Ambassador (Non-Resident) and Permanent Delegate to the UNESCO
14. Clarin Wee — Director (Grassroots Policy & Programmes Division), People's Association
At a glance, there are no visible hawkers on the list.
Singaporeans were beside themselves about the lack of genuine hawker representation in the committee: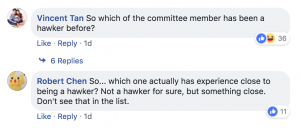 Others were enraged that there seem to be resources, time and energy to form a committee and even apply for the UNESCO inclusion but not to deal with the exorbitant fees and unfair difficulties the hawkers have had to face:




There won't be any hawker culture to nominate without hawkers:


Singaporeans were not happy with the obviously hawker-less state of the committee. In response to public outcry, the National Environment Agency (NEA), the National Heritage Board (NHB) and the Federation of Merchants' Association Singapore (FMAS) issued a joint response on Tuesday night, October 23, pointing out that there is a hawker on the list, and there is also someone who is good friends with many hawkers. (Does that count?)
Lim Gek Meng, number eight on the list above, is a second-generation, semi-retired hawker. Lim has been a hawker for 33 years, is now 67, and says that he is semi-retired.
Lim took over Ming Fa Fishball in Chinatown Complex Food Centre from his father in 1975, and in 2012 he passed it on to his son. This video on Facebook tells the story of his family business.
Lim's is cited as the Vice-President of the Singapore Federation of Merchants' Associations (FMAS), which did not alert anyone that he was indeed a hawker.
However, further inquiries to the NEA revealed that Lim is also the Chairman of the Chinatown Complex Hawkers' Association (which works on issues at the hawker centre) and is the head of the FMAS's Hawker Upgrading Sub-Committee, which advocates hawkers' interests and studies and improves productivity and sustainability in the hawker trade.
Yeo Hiang Meng, who has many hawker friends, is third on the list and a co-chair of the committee. He is also the sitting President of FMAS.
While his work does not seem to have anything to do with the hawker industry, Yeo apparently has many hawker friends and has built up wide rapport with hawkers in particular through engaging with their associations.
Meng and Lim head FMAS together and represent the Singapore hawker community in the bid to UNESCO.
Singaporeans acknowledged but did not seem too pleased at the limited hawker representation in Lim. And they are definitely not happy about the other guy who has hawker friends.


It has yet to be seen whether Lim and Yeo will be able to properly represent the hawker voice in the nomination committee. And what of the multiple complaints hawkers have lodged, not limited to the outrageously high fees which they have had to shoulder to keep their businesses going?
Singapore's hawker culture saga continues, and we are all watching it unfold.
Follow us on Social Media
Send in your scoops to news@theindependent.sg