After smoking, netizen Michelle went in search of a dustbin to dispose of her cigarette bud properly. Unfortunately for her, she was caught by three National Environment Agency (NEA) officers, who fined her for holding a lit cigarette in a sheltered area.
Under non-smoking laws, smoking is prohibited at any common area of any residential premises or building, including atriums, courtyards, common corridors, lobbies, void decks & stairwells.
Netizen Michelle took to Facebook yesterday to share how she was fined for holding a lit cigarette when, according to her, she had already finished smoking and was looking for the nearest dustbin to dispose of her cigarette bud.
https://www.facebook.com/allsgstuff/posts/2798438443630200?__xts__[0]=68.ARBj3d19wWi4Ys3VMiczravP_cIf6Y9zJ6YXQ4qG-5Ed-b2gIUzW9Z3tiMrR5whLLhZhqWmm4sPyeircexj8d-P9zFvIt3JBh0fLo5Bjjw681AmWDwLqgECo6C8oh0go5YHGzmIfp7ABf54nVBdN_SgUZa1fDWyYQr3lhEvKJIWPO2py8DTybDFSSU5warnxZyCZV1P1M7yZ7gzybfX229J9DyY&__tn__=-R
She wrote, "I'm holding a finished cig (I'm all the while smoking at non-sheltered area), so after I finished my cig I went looking for dustbin (yes I'm a law abiding citizen OK.) Unfortunately for me, all the dustbin visible is located at the void deck of the blocks. After 3 steps into the shelter, these 2 NEA officer approached me saying I was fined for holding a "lighted" cig under shelter".
She also added that despite her explaining to the NEA officers, they still issued a fine.
"So I said my cig is already out that's why I'm trying to dispose it. But they insist that my cig is lit. As can see from the pic, all the dustbins is located under the block. My cig is alr out from the start", she wrote.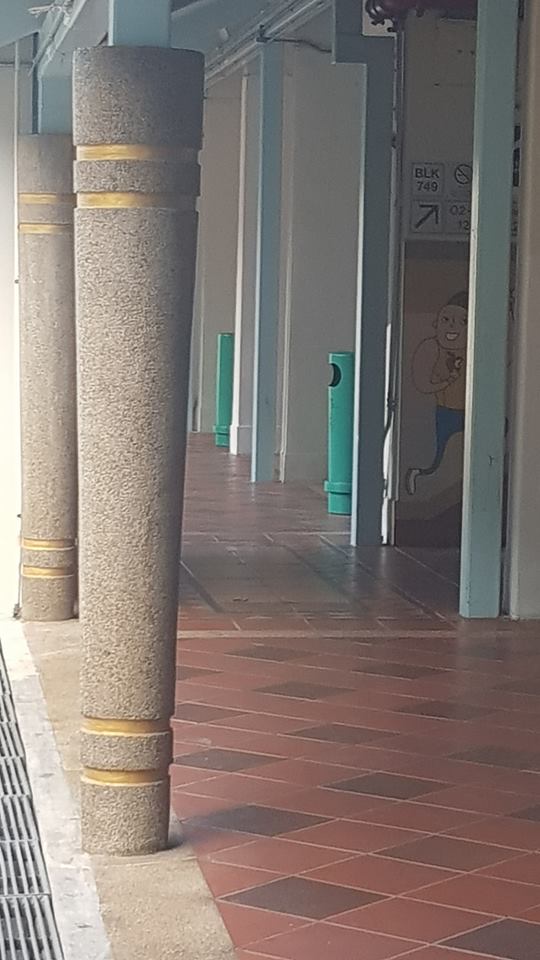 The officers quickly issued a fine and left, within two minutes, she said.
However, being unsatisfied and feeling wronged, Michelle ran after them. She said, "I went to chase after them, Ms Yii Chai Hong & Mr Parthiban Muniandy. The funny thing was when I shouted MS YII!! She actually ran away ???? for a split moment I tot I was the NEA. So okay we manage to catch up to them and I told them I'm not going to acknowledge this summon because I have done nothing wrong".
She also called the police to say that she was fined wrongly, and was told to appeal to NEA.
Netizens who commented on her post told her not to argue with NEA officers in future or to resist. They added that she should write in to explain the situation.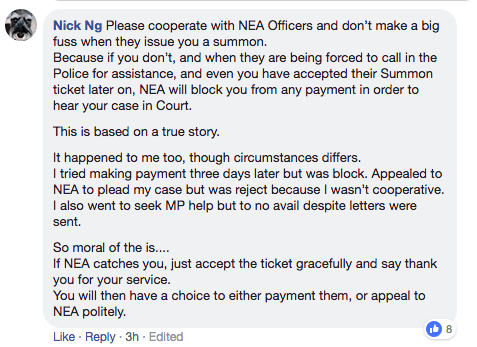 ________________________________________________________________________
obbana@theindependent.sg
Follow us on Social Media
Send in your scoops to news@theindependent.sg