A forum letter writer has lambasted what he feels is Singhealth CEO Ivy Ng's indifferent tone in response the Committee of Inquiry (COI) report that was recently released on the massive Singhealth data hack. Dr Ivy Ng is Defence Minister and top ruling party politician Ng Eng Hen's wife.
Last July, an unprecedented data breach at Singhealth – Singapore's largest group of healthcare institutions that consists of four public hospitals, five national specialty centres and a network of nine polyclinics – affected 1.5 million patients, including Prime Minister Lee Hsien Loong.
Dr Ivy Ng earned some flak last year when she accompanied her husband to an official trip overseas as Singhealth became aware of the breach.
"Unusual activity" was reportedly detected in Singhealth's servers as early as 4 July 2018. The Ministry of Health was given confirmation that the unusual activity was due to a cyber attack on 10 July and the authorities made a police report two days later.
The public was notified of the data hack on 20 July 2018 – 16 days after "unusual activity" on the Singhealth servers was detected and 8 days after the police became involved.
On 13 July 2018, after the police became alerted to the case but before the public became aware, a photo published in mainstream media showed Dr Ivy Ng accompanying her husband, Defence Minister Ng Eng Hen, in an official visit to France, the previous day (12 July).
Netizens responding to the picture, in the aftermath of the public becoming aware of the data breach, criticised Dr Ng for accompanying her husband on an overseas trip instead of remaining in Singapore to help deal with the data breach incident.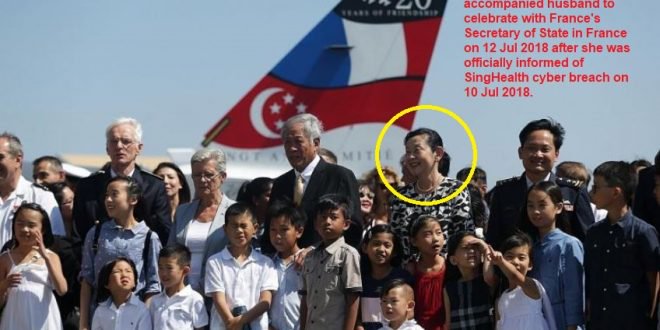 Dr Ivy Ng has also been criticised for her response to the COI report that highlighted the failings of the IT team who were supposed safeguard the servers.
In a forum letter published in the national broadsheet on Saturday, Singaporean Danny Chow criticised that Ng's "almost blase tone" to the COI report was "disappointing on several counts."
In her response, Ng had said: "Since the incident, we have reinforced the culture of personal ownership of cyber defence so that every staff is empowered to identify and report cyber-security threats."
Noting that little has been said by Singhealth's board and CEO since the data hack last year, Chow asserted that it is "disconcerting" that "no one at the top appears to be taking responsibility" for the breach, especially given the COI's "damning" report. Chow asked:
"Doesn't the release of the report warrant a press conference, so that the top management can field questions? It is disconcerting that, notwithstanding public pronouncements, no one at the top appears to be taking responsibility, even with the damning COI statement that "the IT cyber-security team could not even recognise a security incident"."
Asserting that the public deserves a better response from the board and CEO, Chow added that Singhealth's brass needs to provide the public with a list of specific actions it has undertaken since the incident. Read his letter in full here.
A mother of four aged between 24 and 34, Dr Ivy Ng has served as CEO of Singhealth since 2012, after she left her former position as CEO of KK Women and Children's Hospital that she had held for eight years. Now 59, Dr Ng had first met her husband when they were both in medical school together.
In 2012, the year she joined Singhealth, Dr Ivy Ng was honoured for her achievements in healthcare and named the Her World Woman of the Year 2011/2012. Published by SPH Magazines, Her World awards the title each year to Singaporean women who have contributed to society, projected a good image of the nation, and are role models for other women.
https://theindependent.sg.sg/singhealth-ceo-is-defence-minister-ng-eng-hens-wife/Follow us on Social Media
Send in your scoops to news@theindependent.sg