Singapore's land transport system under the Land Transport Master Plan (LTMP) 2040 envisions a faster travel time, with the 'walk, cycle, ride' scheme, an inclusive transport system, and an improved quality of life through the land transport system.
These were the three themes outlined and shared by around 50 people in the advisory panel during the fourth focus group discussion of the Land Transport Authority (LTA) held last Saturday.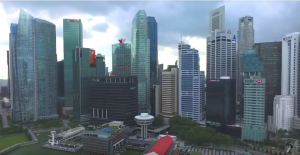 Photo: Screengrab from YouTube
It was in August 2018 when Senior Minister of State for Transport Dr Janil Puthucheary officially launched the public engagement for the next LTMP 2040 with the release of a Public Consultation Document (PCD). More than 7,000 members of the public and industry stakeholders have taken part in this consultative avenue.
The first theme is the Walk Cycle Ride (WCR) modes of transport that include: active mobility modes, which are walking, cycling and using personal mobility devices such as electric scooters; mass public transport such as buses and trains; and shared transport such as taxis, private hire cars, and car-sharing.
In the '20-minute town and 45-minute city' vision, 9 in 10 of all peak-hour journeys taken by walking, cycling and riding shared transport journeys to the city centre should be made in 45 minutes; and, 9 out of 10 people should get to their nearest neighbourhood centre and amenities through Walk-Cycle-Ride modes in less than 20 minutes.
WCR recognised the shifts in the land transport landscape in recent years for 71% of all journeys during peak hours are made through WCR. LTA believed that WCR journeys can be made even faster and more attractive to commuters.
LTMP identified three broad strategies to make WCR journeys faster: bringing jobs and amenities closer to homes, giving greater priority to WCR through road redesign, and providing and facilitating more direct travel through expanding the rail network and facilitate more innovative technology-enabled transport options.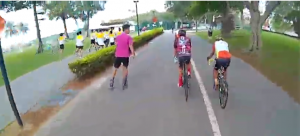 Photo: Screengrab from YouTube
Advisory panel member Mr Melvin Yong considered these ways as a game changer because it will make commuting more convenient and make cycling and walking more feasible also.
As a Member of Parliament and the executive secretary of the National Transport Workers' Union, Mr Yong said this vision for increased public transport use would see more jobs for transport workers in the future.
"The current nature of jobs may change, but the total number of jobs will continue to grow as more people make use of public transport to get to their destinations," he said.
The second theme, which is an inclusive transport system, envisioned a future where the transport infrastructures are inclusive and accessible to meet the increasingly diverse mobility needs of all Singaporeans, by engaging the community in shared responsibility.
Chairman of the Public Transport Council Mr Richard Magnus pointed out to "those who do not understand English, the elderly, those with limited vision and hearing, and those who are wheelchair-bound."
Associate Professor Faishal Ibrahim, the chairperson of the active mobility advisory panel, presented some strategies to encourage greater uptake of healthier modes of travel; how to create safer streets with fewer accidents; and a clean environment with more green vehicles.
The third theme is improving the quality of living for all Singaporeans through the land transport system by creating and reclaiming more spaces for the community, building a safer environment, towards zero land transport-related deaths, and using cleaner, quieter vehicles and greener construction techniques.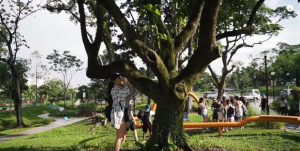 Photo: Screengrab from YouTube
"It's a relief to know that in the future we'll have this scheme so that we can travel faster," said the 13-year-old student-participant Roderick Foo, who travels around one hour to get from his school in Katong to his home in Sengkang.
LTMP advisory panel member and Senior Minister of State for transport Dr Janil Puthucheary, said that if work starts now, these recommendations could become reality by 2040.
He also stressed that there's also a very important role for Singaporeans, to do this with the Government. "It's not just about what the government does, but what we can do with the Government."
The Land Transport Master Plan 2040 advisory panel will make its recommendations to the Government by mid-February.
Land transportation system has a big impact on the well being of the economy, society, and community. The things made today will truly shape the future.
Netizens were very keen on this issue. They shared their opinions in this very timely and relevant issue encompassing everyone.



Photo: Screengrab from Facebook
But these two netizens could not help but make some comparisons: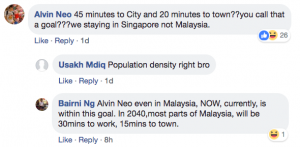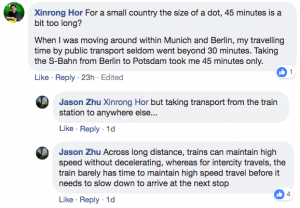 Photo: Screengrab from Facebook
In the launching of LTA's 'Transporting Singapore into the Future Together' video, the online public shared their observations and suggestions.



Photo: Screengrab from YouTube
Follow us on Social Media
Send in your scoops to news@theindependent.sg