Reports of fake tickets causing would-be viewers of South Korean boy band BTS to be turned away from their January 19 concert at the Singapore National Stadium have surfaced.
The popular singing group is on their Love Yourself World Tour, back in the country after four years.
Many of the fans were scammed through tickets they had purchased online through sites such as Carousell and StubHub. Concertgoers had been told that valid tickets would be scanned only once at access points. The New Paper (TNP) reported that when some fans presented the tickets they had, they were told that the ticket had already been scanned and the bearer allowed entrance.
In other words, unscrupulous individuals had bought valid tickets online, made copies, and sold them, passing them off as legitimate.
1,277 such online purchase scams in Singapore have been reported, with losses of S$ 930,000, according to the National Crime Prevention Council.
A spokesman for Singapore Sports Hub had warned against buying tickets via resellers, and that only those purchased from the authorized agent were guaranteed to gain viewers access to the concert. "By purchasing tickets through resellers other than the authorized ticket agent, buyers take the risk that the validity of the tickets cannot be guaranteed as it could lead to seizure or cancellation of those tickets without refund or other compensation."
On Wednesday, January 23, TNP was told by a spokesman for Singapore Sports Hub that the company takes cases of fake ticket scams seriously indeed and that they "work closely with promoters and government authorities to identify scalpers and unauthorized reselling. Any unauthorized resale tickets identified will be voided and denied entry to our venue."
Tickets for the BTS Love Yourself World Tour normally cost between $88 and $348, but some fans bought them for significantly higher amounts. The fact that some tickets ended up being fake only added insult to injury.
Online seller Carousell has said that it is communicating with people who claim to have been scammed with fake BTS tickets. They've also suspended one user account that failed to deliver tickets for BTS's Singapore concert.
Authorities have launched an investigation into the fake tickets scam. TNP reports Carousell as saying "If any account is found to have engaged in fraudulent activity, we will not hesitate to suspend and ban the user."
Warnings that fake tickets were being sold were circulating even last year when the concert was advertised and the tickets began to be sold.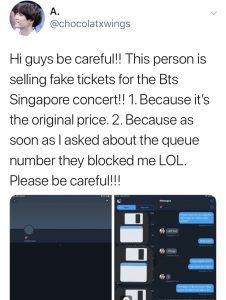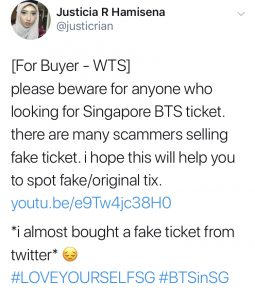 Even the police force tweeted to warn the public about fake tickets to the BTS concert.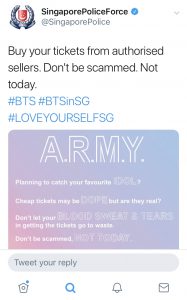 According to some netizens, Singapore is not the only place where this has happened.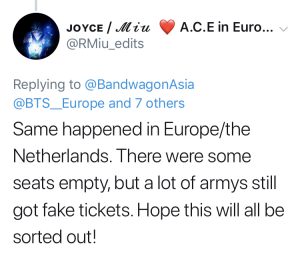 Read related: Excitement at the highest level for BTS Army and the "Love Yourself" concert at the National Stadium
https://theindependent.sg.sg/excitement-at-the-highest-level-for-bts-army-and-the-love-yourself-concert-at-the-national-stadium/Follow us on Social Media
Send in your scoops to news@theindependent.sg 
No tags for this post.