Five academics who spoke to TODAY Online recently about the issues they faced at the National University of Singapore (NUS) and Nanyang Technological University (NTU) have said that they are standing by the comments that was published in a recent article.
The article, entitled "Opaque policies, fixation with KPIs, rankings: Why arts and humanities academics quit NUS, NTU", was taken down on 10 Jan – four days after it was published on 6 Jan. TODAY later explained that "The article was taken down on 10 Jan as it is the subject of a legal challenge and our lawyers are looking into the matter."
NUS appears to be the party behind the legal challenge TODAY is facing. An NUS spokesman confirmed to a local publication yesterday that it found the TODAY article contentious since it "affected the reputation" of NUS and that the school is "seeking legal advice regarding these allegations":
"The Today article that was published on Jan. 6, 2019 fell significantly short of our expectations. It also did not adequately represent NUS' position on the matter, although our clarification was sought.
"The article has unfairly affected the reputation and standing of NUS locally and internationally. It affects not just the institution, but also serving academics and students. Hence, NUS is seeking legal advice regarding these allegations."
In an attempt to explain the high turnover rate of academics at NUS and NTU, the TODAY article had interviewed about 10 academics who have either left or are in the process of leaving the top local schools. Five of these 10 academics were quoted publicly while the remaining academics were unnamed.
TODAY suggested that opaque tenure and promotion policies, resistance to innovation, the overemphasis on research publishing over teaching and a "warped" notion of institutional excellence as the reasons why academics have left the two schools, even when they are awarded tenure.
The MediaCorp publication added in the article that both NUS and NTU told them that turnover rate at the affected faculties were not high and that the schools did not provide any numbers.
The five academics who were named in the article have since released a statement saying that they stand by the comments they made to TODAY.
Noting that they are unaware of any other such incident where a university has reacted the way NUS did to media reporting of faculty opinions, the professors said: "As academics with collective experience in many countries besides Singapore, we believe that freedom of expression and active public debate are foundational to scholarly excellence and the advancement of human knowledge."
The five academics, John DiMoia, Axel Gelfert, Andrew Quitmeyer, Woo Jun Jie, and Linda Lim, said: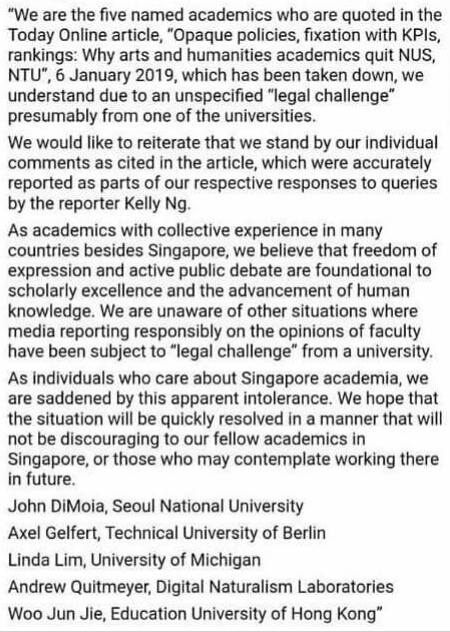 An NUS spokesman has since responded to the academics' statement. In a response to the national broadsheet, the spokesman said:
"NUS upholds the principles of academic freedom and open inquiry, which are central to our culture of academic excellence and continual improvement…
"Therefore the university also wishes that any article about us published in our mainstream media should be impartial and factually accurate, so that the public can come to its own conclusions in a fair and objective manner."
https://theindependent.sg.sg/today-faces-legal-challenge-over-article-explaining-why-unhappy-academics-left-nus-ntu/
Send in your scoop to news@theindependent.sg