Megan Fox has been repeatedly mum-shamed over the appearance of her sons, Noah, six, Bodhi, five, and Journey, three over the past few years.
In photos Megan shared, her son Noah was seen wearing a Frozen-themed dress back in 2017.
Fans started flooding her Instagram post with comments that condemned her for allowing her son to wear a dress.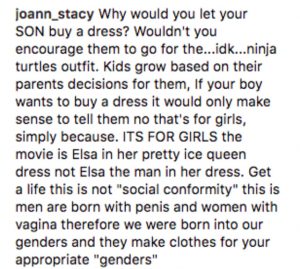 Comments were just as critical when paparazzi photos emerged of Noah out and about in LA wearing the same dress.

Less than a year later, Megan was heavily criticised for sharing a photo of Noah and Bodhi on the beach.
This time, they complained that her sons have long hair.


Megan has ignored the comments up until now.
Recently, during a TV appearance, the Transformers star opened up about supporting Noah's love for wearing dresses and discussed how they are handling school bullies who mock him for it.
In an interview with The Talk, Megan shared that Noah is very creative, loves fashion and likes to dress himself.
She said: "He designs, he draws outfits. He's very talented, but he's still six. He's really into fashion. Sometimes, he'll dress himself and he likes to wear dresses sometimes."
"I send him to a really liberal, like, hippy school," she continued, "But even there, in California, he still has little boys going, 'Boys don't wear dresses,' or 'Boys don't wear pink.'"
Megan went on to explain that as a result of the taunts from other kids, she's been teaching him the value of being confident "no matter what".
She said: "We're going through that now, where I'm trying to teach him to be confident no matter what anyone else says. He came home and I was like, 'How was it? Did any of the friends at school have anything to say?' And he was like, 'Well, all the boys laughed when I came in,' but he's like, 'I don't care, I love dresses too much.'"
Her comments come after her husband, Brian Austin Green, defended Noah by pointing out that he's "not harming anyone by wearing a dress".
Speaking to Hollywood Pipeline, he said: "I've heard from some people that they don't agree with him wearing dresses. To them I say, 'I don't care. He's four and if he wants to wear it then he wears it.'"
He added: "I feel like at four at five, that's a time when he should be having fun. He's not harming anyone wearing a dress. So if he wants to wear a dress, good on him."