In a recent interview with Women's DongA magazine, South Korean actress Ku Hye Sun candidly shared her thoughts.
She is now in the midst of divorce proceedings with Ahn Jae Hyun. When news of their marital issues became public, both of them made headlines.
Ku shared that when her divorce was first published, her parents thought that she was going to die. She shared that she is not the type to get angry but her level of aggression really increased.
Her family became surprised and worried when Ku did the things she didn't use to do. They said they shouldn't leave the actress alone.
Ku's older sister stayed with her for a week and then Ku was hospitalised for a month. Her mind became peaceful after going for counseling.
Ku said she regrets a lot of things and she couldn't understand some of her actions. She thought it was difficult for her to endure such strong feelings of disliking someone. She admitted that she couldn't forgive Ahn because he was someone he really trusted and there were times she thought she was going to go crazy from anger.
She has become peaceful after making an effort to do so. She needed to recreate her life for the future so she tried to forget it.
Ku's mother was opposed to her marriage to Ahn Jae Hyun. She shared that it is difficult to live one's own life after getting married so Ku's mother hoped that she would live freely by doing her own work and travelling.
When Ku introduced Ahn to her mother, her mother said that Ahn's being good to Ku because they both like each other right now but dating and marriage are different.
While living together, love could fade and and there will be many difficult obstacles. Her mother advised that wouldn't it be better to take more time to find out if Ahn's someone who can endure those kinds of things with Ku? So when the split happened Ku said it was her choice in the end and she wondered what she did wrong and where it all went wrong.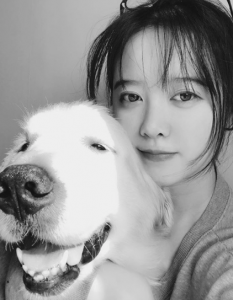 Ku Hye Sun continued her decision to marry Ahn Jae Hyun despite her mother's disapproval.
She then added that she didn't want to date anymore and there is an end to all dating relationships. Ku told Ahn that she wants a love where one gets married and becomes responsible. Otherwise, it's better to break up. After that, Ahn said they should get married. Ku said it after making her mind about breaking up but Ahn didn't give up. He was the first man to went to Ku in that way.
So where did things go wrong? Ku said that there weren't that many bad days and there was nothing to fight about. They didn't do things the other person didn't like. Ku didn't like it when Ahn drank but he gave that up because he felt sorry the next day.
She was sure that there were parts of her that her ex-husband disliked. She said that Ahn was a sensitive person but her clothes always had their pet hair on it so that might have been difficult for him. Ahn never shouted at her, always smiled and said they should hold hands and sleep, living an ordinary life.
After Ahn was cast in his drama Love with Flaws, there was a change in her ex-husband's attitude. The actor said he needed to exercise and he would go out early in the morning and come home late drunk. Ku thought that Ahn wanted to do a good job as a lead and gave him lots of compliments.
In June, he got a studio apartment and couldn't be reached for a month. At that time Ku thought that he needed time to concentrate and practice on his own. However after a month later, Ahn said he wanted to live freely and wanted a divorce.
Ku said she didn't work a lot after marriage and her ex-husband worked more. Someone needed to do housework so as Ku regressed while her ex-husband grew, she felt abandoned. Ku was the senior when they first met so Ahn respected her. Housework was important but Ku felt that she was being ignored and thrown out for not standing on her own.
Ku said that they had to get a divorce and there was no reason for him to see her again. She said it was difficult for her to accept the fact that Ahn discussed their private life with the agency.
Ku concluded that she wrote the expression 'temporary retirement' on social media. She was in a dispute with her agency and couldn't work. She really wanted to act and she used to have big dreams as an actress or writer. Ku said she would torment herself so much when her dreams didn't come true. She said she is not going to do tha tanymore and she will be satisfied with just a piece of paper and a sack of brushes on a small table. The actress said she wants to draw pictures, write, dream, sleep and wake up. She would like to be become a mature actress.
Ku Hye Sun's full interview and pictorial can be found in the December issue of Women's DongA magazine. /TISG