A photo Emeritus Senior Minister Goh Chok Tong posted on his Facebook page last night has fueled speculation that the former head of government may stand against the ruling party in the next election – the same way Malaysian leader Dr Mahathir left his party to unite the opposition across the causeway and topple the government.
ESM Goh, who is presently on holiday in Langkawi, posted the picture above on his social media page around 10pm yesterday. The picture appears to have been taken at the Langkawi 3D Art Museum – one of the largest three-dimensional art museums in the world, that features a painting of Dr Mahathir extending his hand towards patrons.
Dr Mahathir himself posed for a picture with the same painting, when he inaugurated the museum in February 2015: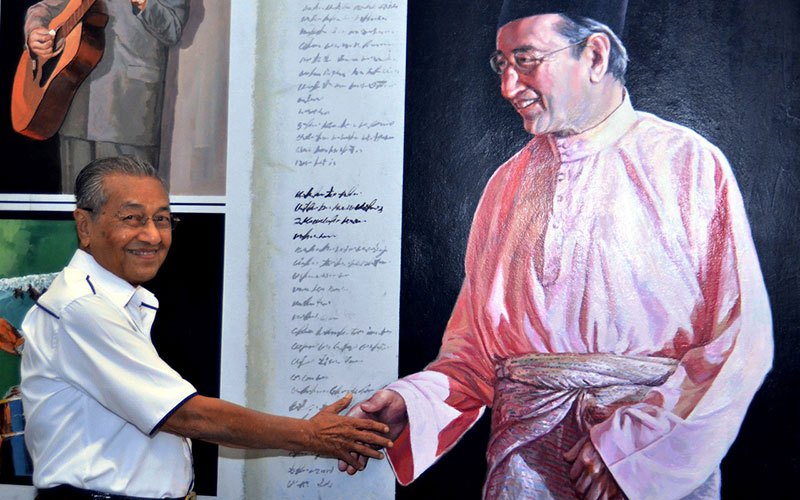 Although ESM Goh also posted some other photos from his trip to the museum, the photo of him in the Mahathir exhibit was notable – it even appeared as a separate post, apart from the post featuring the other pictures, on his Facebook page.
Some Singaporeans reacting to the picture felt that the pose and the fact that ESM posted the photo on social media was cryptic while the picture has also renewed existing speculation that ESM Goh may follow in the footsteps of the Malaysian PM, alongside his old friend and fellow ex-PAP politician Dr Tan Cheng Bock:



In May this year, rumours that ESM Goh may "do a Mahathir" with Dr Tan began spreading like wildfire after ESM Goh posted a photo on his Facebook page with Dr Tan and made a reference to Dr Mahathir.
Sharing a picture with Dr Tan from his 77th birthday bash, ESM Goh alluded to Mahathir's stunning election victory and said: "Age is just a number, as Mahathir has proven. But it is family and friends who make that number light, meaningful and memorable. Thanks, all my friends out there."
https://www.facebook.com/MParader/posts/2161079127268075
Earlier that month, when news of Dr Mahathir's victory broke, ESM Goh congratulated the veteran politician and drew parallels between Dr Mahathir and Singapore's founding Prime Minister Lee Kuan Yew:
https://www.facebook.com/MParader/posts/2146788302030491
ESM Goh's post congratulating Dr Mahathir, his subsequent referencing a quote by Dr Mahathir and his latest Facebook photo come a few months after an exchange between ESM Goh and Prime Minister Lee Hsien Loong led netizens to speculate that an internal conflict may be brewing between the pair.
The exchange between the top politicians began on New Year's Eve when ESM Goh urged the younger minister to select the next Prime Minister ideally within 6-9 months time, calling this an "urgent challenge" for the nation.
Later in January, the Prime Minister commented on ESM Goh's remarks and said that leadership succession will "take a little bit longer" than what ESM Goh had hoped. He added, in what appeared to be a pointed comment, that "ESM (Goh) is speaking with the privilege of watching things rather than being responsible to make it happen. I think we know it's a very serious matter."
In response, the ESM took to Facebook and posted a comment that appeared to throw subtle shade at the PM's "watching things" comment.
Posting about his meeting with former Iranian Minister of Economic Affairs and Finance, Dr Ali Tayebnia, the former PM said: "I recalled my two visits to Iran fondly, the first as Prime Minister and the second, as Senior Minister. Both of us now 'watch' things happen, and coincidentally share a common title. He serves as Senior Advisor to his President while I serve as Senior Advisor to MAS!"
ESM Goh made a similar reference to the "watching" comment in a subsequent post. Uploading two photos, one of himself and another of an unidentified man, the ESM wrote: "I watch as he ruminates in the calmness of Learning Forest, far from the maddening (sic) crowd."
A few hours later, the PM finally responded by sharing ESM Goh's post and wrote: "'Watching' MParader's posts: Touché! ? – LHL"
Netizens responding to the unusual exchange appear to largely feel that there is some sort of strain in the relationship between the nation's current and immediate past Prime Ministers.
One netizen wrote, "Using FB to get a message across between a former PM and the current PM reflects a strained relationship that requires some patching up. Hopefully, we don't end up watching more things happening," while others have criticised the leaders for being "childish":
http://ww2.theindependent.sg/facebook-exchange-between-pm-lee-and-esm-goh-cause-netizens-to-believe-internal-conflict-is-brewing/
ESM Goh's posts prompted netizens to call on him to 'do a Mahathir' and join the opposition camp to fight the incumbent. Both men share similarities, having been Prime Ministers of their respective nations in the past. At 77, ESM Goh is 15 years junior to Dr Mahathir as well.
These calls come after Dr Mahathir's historic win prompted many Singaporeans to express their desire for Dr Tan Cheng Bock to achieve something similar by contesting the next election from the opposition's camp:
http://ww2.theindependent.sg/singaporeans-wish-tan-cheng-bock-will-follow-mahathirs-lead-and-contest-the-next-ge-as-an-opposition-candidate/
The inclusion of a photo with Dr Tan in ESM Goh's Facebook post prompted many Singaporeans to call on ESM Goh to join forces with Dr Tan to achieve a win against the ruling party.
Both Dr Tan and ESM Goh have been noted to be close. In 2014, ESM Goh underwent a major surgery and Dr Tan was one of just three visitors who were permitted to see the ESM apart from his immediate family.
Describing Dr Tan as a "very close friend", ESM Goh later wrote on Facebook: "I also had an almost hour-long chat with Tan Cheng Bock, my very close friend from school. We talked about mutual friends, health issues and families. Thanks, Bock. I am glad to see you in good health and keeping yourself busy."
Commenting on Dr Tan's bid for presidency, ESM Goh told reporters: "Indeed, he is an old friend. I've known him for over 55 years. What he did was in keeping with his character. Once he has decided to do something, (he) will do all he can to achieve that goal."
"In the past, we would have spoken to one another. But after the last presidential election, he was and will be on his own.
"We are still very good friends, still go out with each other, but I will not try to influence him…I will just wish him good luck."
Despite ESM Goh's assertion that Dr Tan "will be on his own" after the 2011 Presidential Election, Dr Tan's appearance at ESM Goh's intimate 77th birthday party has turned heads. Several Singaporeans proceeded to call on the two politicians to put aside their differences and come together for the good of the nation, like Mahathir did with opposition coalition partners across the causeway:
http://ww2.theindependent.sg/singaporeans-clamor-for-goh-chok-tong-and-tan-cheng-bock-to-join-forces-and-to-do-a-mahathir/Follow us on Social Media
Send in your scoops to news@theindependent.sg