Age is clearly not a number with 73-year old Ferrari driver Shi Ka Yee, who admitted in court on Monday (July 16) to stopping her car in the middle of Orchard Road in 2016, to cause a traffic jam. This incident comes four months after she was sentenced to jail for assault.
According to her, a private bus driver sounded his horn as she had been driving at a "very slow speed" and she subsequently decided to block traffic.
That day, bus driver Mr Wu was transporting passengers from Scotts Road to Depot Road when he drove directly behind Shi's car.
According to Deputy Public Prosecutor Wong Kok Weng, Shi was travelling at an extremely slow speed even though traffic in front of her vehicle was clear.
Mr Wu then sounded his horn twice, as both vehicles turned into Orchard Road.
Shi's Ferrari suddenly came to a complete stop in the middle of the five-lane Orchard Road, blocking Mr Wu's bus as well.
DPP Wong said, "The victim responded by sounding his horn to alert the accused to move off. Instead of moving her vehicle, the accused alighted from her car and approached the victim. The victim also alighted from his bus. The accused was angry, and began shouting loudly at the victim."
Mr Wu and Shi then got into a verbal argument, leading to the police arriving on scene. Only when officers asked Shi to move, she said that she did not want the bus to get away as she wanted to report Mr Wu's behaviour.
Shi pleaded guilty in court to the obstruction of traffic along Orchard Road.
Shi Ka Yee, 72, was disqualified from driving all classes of vehicles for six months. One count of verbally insulting the bus driver, Mr Wu Xiaokui, 41, will be considered during sentencing.
This is not Shi's first case of road rage as in March this year, she was was sentenced to four weeks' jail and disqualified from driving all classes of vehicles for six months for assaulting BMW driver Raphael Chong Yen Ping at Telok Ayer Street.
Also, in February 2015, she verbally abused her neighbour, Mr Nasrat Lucas Muzayyin and trespassed onto his property. She was also accused of drink driving last year.
Netizens were very disapproving of her behaviour and many suggested jail-time for her to repent.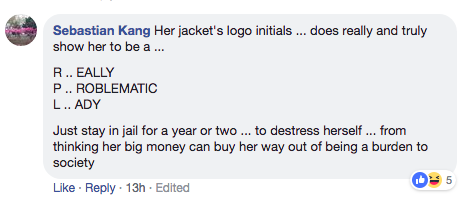 ________________________________________________________________________ obbana@theindependent.sg
Follow us on Social Media
Send in your scoops to news@theindependent.sg