City Gas Pte Ltd announced yesterday that gas tariffs for households will go up for the third time in this year alone. This comes on the back of a 15 per cent water price increase (that followed another 15 per cent water price hike last year) and a 16.8 per cent electricity tariffs increase that went into effect this year.
A trustee of City Gas Trust, the gas provider revealed that the gas tariffs for households will rise by 3.78 per cent, hiking tariffs by 0.70 cent per kilowatt hour (kWh). This means that households that are paying 18.53 cents per kWh will have to pay 19.23 cents per kWh between 1 August 2018 and 31 October 2018.
With the current 7 per cent Goods and Services Tax, households will have to pay a total of 20.58 cents for town gas.
City Gas – which services 90 per cent of those living in new housing estates and private properties – cited an increase in fuel costs as compared to the previous quarter, in explaining the gas tariffs hike. It added that the tariffs it imposes are based on parameter provided by gas industry regulator, Energy Market Authority (EMA).
Supplying the following table showing the revisions to gas tariffs, City Gas confirmed that the EMA has approved the revised tariffs it has set for the next quarter.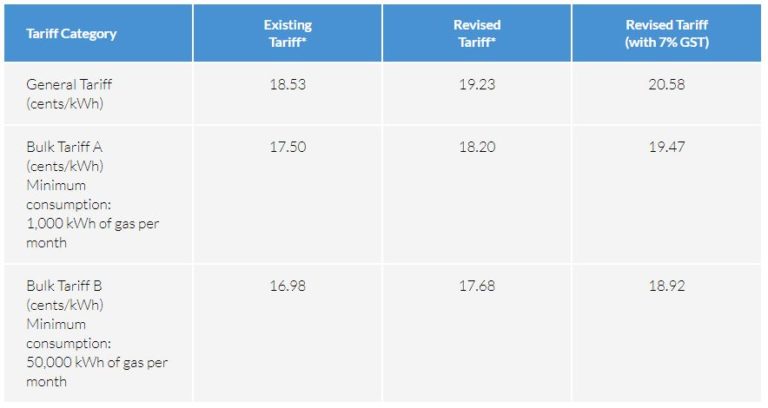 Follow us on Social Media
Send in your scoops to news@theindependent.sg