Yang Kaiheng and Ai Takagi, the duo responsible for xenophobic news site The Real Singapore, have found success as ramen shop owners after being conceited of and jailed for sedition. But apparently they've not changed their irreverent ways, recently suggesting that their next ramen shop be opened at Changi Prison, of all places.
Since 2015, the couple seemed to flourish in their new careers, with three Takagi Ramen branches all over the country—including their first one at the the National University of Singapore's Bukit Timah Campus, and the most recent one in Ang Mo Kio.
Tongue-in-cheek (we hope), the couple conducted a poll of their followers on October 11 on Facebook, asking whether the new ramen joint they plan to open next year should be at Downtown East or Changi Prison Complex.
https://www.facebook.com/TakagiRamenShop/posts/1101487743341066?__tn__=C-R
The results were perfectly in keeping with the couple's sense of humor. A total of 960 people voted, with 70 percent choosing the jail as the next location.
Spurred by the success of the poll, the couple took it a step further by posting a copy of an email supposedly sent to the prison's leasing manager.
It read: "Takagi Ramen would like to open a new outlet at your premises to add value to your esteemed faculty and bring greater variety in food options for your guests.
They also proposed a "special breakfast menu" with ridiculously low prices, writing, "All our outlets sell at very low margins, so you can be confident that prices won't be hiked as we are very familiar with keeping costs low."
The couple has said that they started the ramen shops since they knew they'd have limited employment opportunities because of the lawsuit and conviction. They also had  big expenses to cover because Mr. Yang's father suffered from a rare medical condition with expensive treatment costs, and they had to pay what they owed Singapore Press Holdings for copyright infringement.
The business has turned out to be remarkably successful, and is expected to earn S$ 2 million for 2018.
From their exchanges with the netizens who commented on their posts, it's obvious that the couple has lost none of their sense of humor, despite the hardship they faced in jail.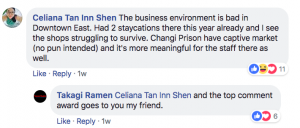 Follow us on Social Media
Send in your scoops to news@theindependent.sg