Singapore – A popular pet boarding service is currently under much scrutiny for allegedly mistreating its clients.
On December 29, authorities raided the area of Platinum Dogs Club as part of their investigations which is a response to several complaints from customers that their beloved pets were abused during their stay at PDC.
The Agri-Food and Veterinary Authority of Singapore (AVA), who is in charge of investigations, found 18 dogs and a rabbit when they inspected the premises, all of which were taken into temporary custody until their owners return.
Located at 7 Galistan Avenue in Bukit Panjang, PDC offers pet transport, day care and grooming services. They boast of having more than 20 years of experience and are equipped with luxurious amenities such as air-conditioned rooms and cage-free accommodations.
However, the opposite happened for 4 owners who left their furry doggos at PDC for the holidays. One owner lost her bellowed Jack Russell due to maltreatment and was not even contacted immediately by the company. After posting her experience online, other owners started doing the same and shared how their pets came back wounded, dirty, traumatized and with skin infections. AVA was quick to respond to these complaints by initiating an investigation.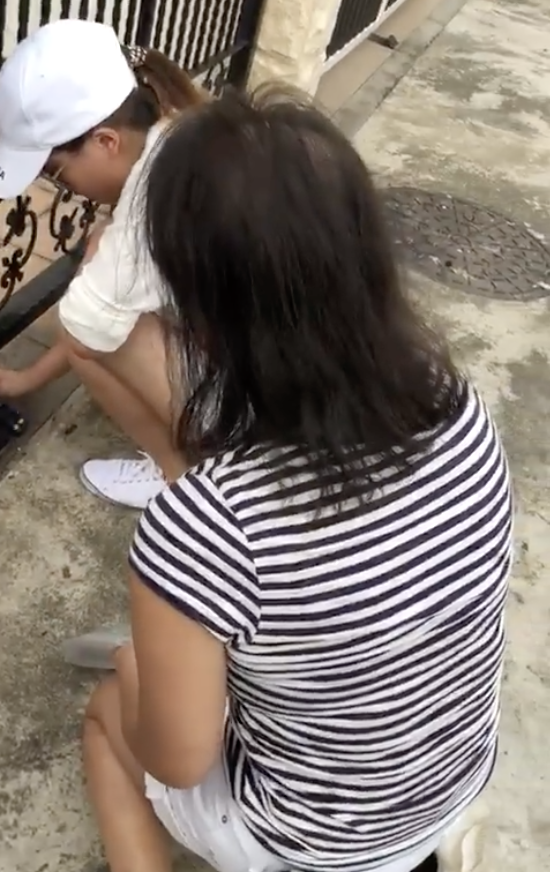 Ms. Elaine Mao, who also left her sheltie named Prince at the boarding house for the holidays, cut her vacation short and flew back to Singapore after hearing about the news form other owners. She recently came face-to-face with a lady who, according to Yahoo News, is linked with the company. Ms. Elaine has no clue what happened to Prince and even after begging the lady to give her some answers, she was merely given a very cold stare and zero response. The woman even went as far as tearing down and disregarding the missing poster in front of the gate while reporters and bystanders were watching.
Watch Ms. Elaine's encounter here.
https://www.facebook.com/sunmegamart/posts/1687769518035413?hc_location=ufi
An example of a complaint by Gwyneth Lee can be read below. She gives a very detailed report of her experience with PDC and recommends it to be immediately shut down by AVA.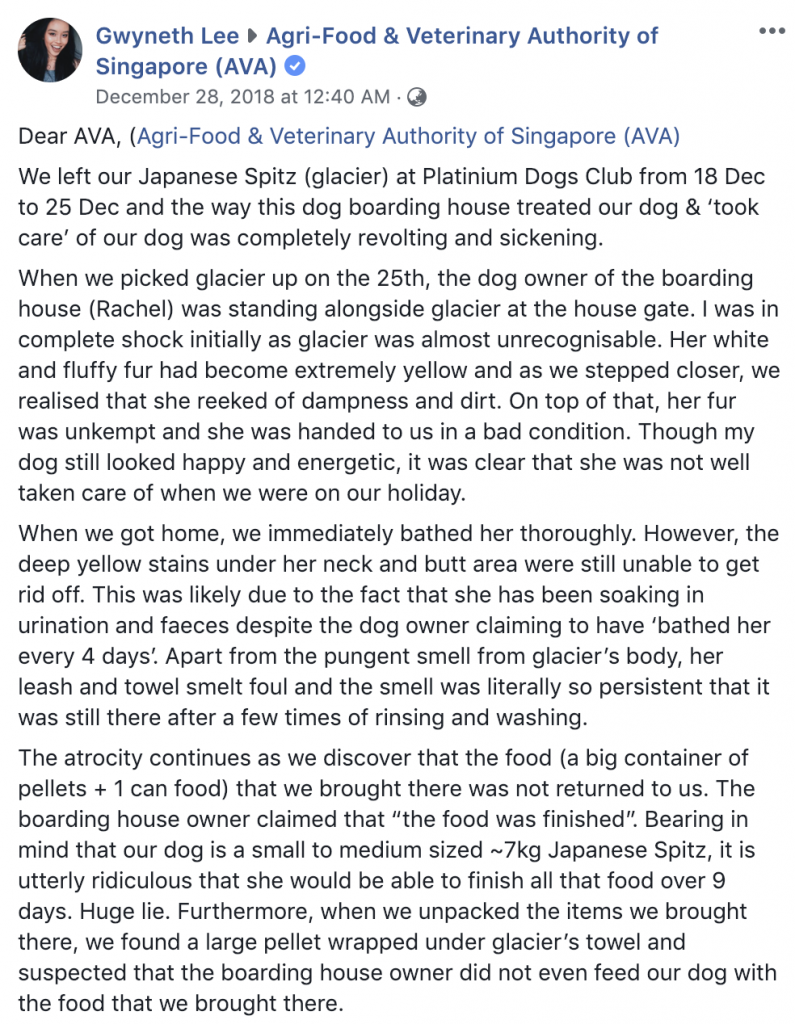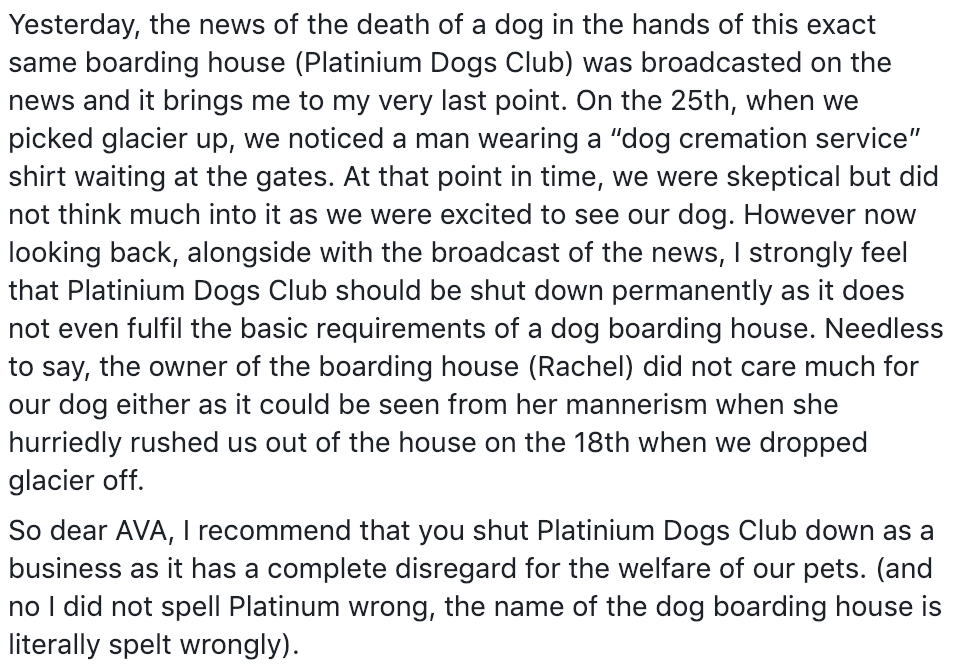 In relation to the investigations, the police are also looking at the legality of Platinum Dogs Club who has been operating in a private residential area which pet boarding houses nor other commercial businesses are not allowed to do. Also, under the Animal and Birds Act, those engaging in an animal-related business who fails to give due care towards animals may be fined up to S$40,000 and/or serve two years in jail.
A compiled post of the Platinum Dogs Club case
https://www.facebook.com/photo.php?fbid=2150204355019068&set=gm.1150176748468153&type=3
Follow us on Social Media
Send in your scoops to news@theindependent.sg