The Singapore Court today found prominent activist Jolovan Wham guilty of organising an illegal assembly involving Hong Kong activist Joshua Wong, who participated via Skype. The Court also convicted him for refusing to sign a police statement.
In December 2016, the Police started investigating an event in which Joshua Wong, a youth democracy leader of Hong Kong's pro-democracy movement, spoke via Skype. Police told the organiser of the event, Mr Jolovan Wham, that he would need a work permit even if he was addressing the audience using Skype.
Wong, the face of Hong Kong's Umbrella Revolution and Secretary General of Hong Kong's Demosisto Party, spoke at a conference titled 'Civil Disobedience and Social Movements' on 26 Nov. The conference was organised by Community Action Network (CAN!) – an affiliation of socio-political activists and cause journalists. Journalist Kirsten Han and political activist Seelan Palay were the other speakers at the conference.
Writing in his Facebook Mr Wham said that a permit was not granted for Wong to speak at the conference but his co-organiser Rachel Zeng and him "went ahead anyway because it was a harmless and straightforward discussion about social movements."
https://www.facebook.com/yliddat/videos/456743017829661/
Mr Wham said then that the police were very professional in questioning him and that they even shared a few light moments together.
"When it ended, he walked me out to the lift and thanked me for my cooperation. Finally I asked him "don't you think it's a waste of time investigating such cases? Aren't there real criminals out there to catch?" He looked a little embarrassed and laughed a little nervously. Then he composed himself and said "the police takes every case seriously""
In November 2017, the Police in calling Mr Wham a "recalcitrant", said that they would charge Mr Wham for for vandalism, organising public assemblies without police permits, and for refusing to sign his statements under the Penal Code.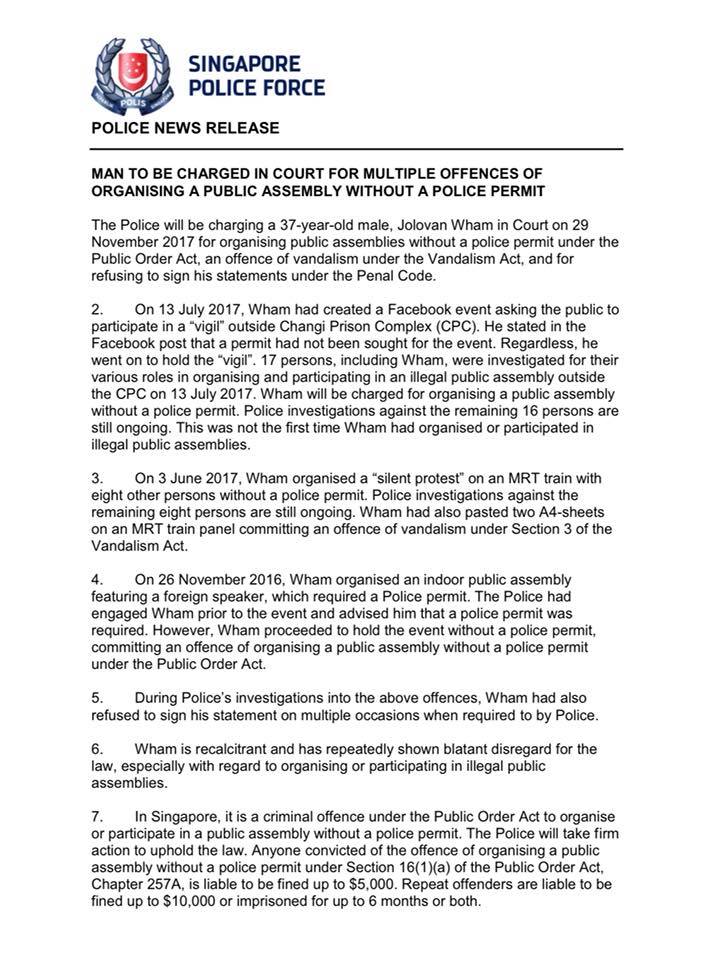 Human rights organisations such as Human Rights Watch, AWARE and MARUAH had previously condemned the legal actions against Mr Wham by the authorities.
Commenting on his conviction, Mr Wham said that the judge did not gives the grounds of his decision. He added, "the only thing he said was that the prosecutor had proven his case beyond reasonable doubt."
Mr Wham will be sentenced on January 23rd at 2:30pm. Mr Wham said that he intends to appeal against his sentence.Follow us on Social Media
Send in your scoops to news@theindependent.sg 
No tags for this post.