The suit includes screenshots from Forever 21's Instagram account showing stills from Grande's work being used to promote the Forever 21 brand, as well as advertisements featuring what the suit refers to as a "look-alike model," who has a hairstyle like Grande's and is wearing clothes and accessories similar to those seen in Grande's music video for her song "7 Rings."
According to the suit, some captions of the ad campaign even featured lyrics from Grande's song.
Here are some comparison images, featuring stills from Ariana Grande's music video of "7 Rings" and the Forever 21 ad campaign: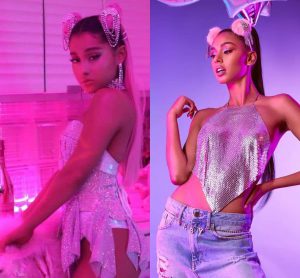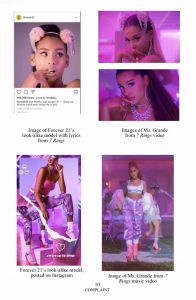 Forever 21 removed the images showcased in the lawsuit it's Instagram, Twitter and Facebook pages.
Grande's suit claims that Forever 21 left some unauthorised posts up on social media until at least April 17, 2019, despite requests from the singer beginning in February that all of them be taken down.
The lawsuit came after talks for a joint marketing campaign between the popular singer and the fashion retailer fell apart because Forever 21 would not pay enough for "a celebrity of Ms Grande's stature", whose longer-term endorsements generate millions of dollars in fees.
Grande, who has over 65 million Twitter followers and 163 million Instagram followers, has a fan base that represents the target markets of Forever 21 and Riley Rose.
When asked to comment on the lawsuit, Forever 21 issued a statement, saying that per company policy, the company cannot comment on ongoing litigation.
"That said, while we dispute the allegations, we are huge supporters of Ariana Grande and have worked with her licensing company over the past two years. We are hopeful that we will find a mutually agreeable resolution and can continue to work together in the future," said the statement.
Riley Rose, the beauty company launched by Forever 21's founders' daughters, did not immediately respond on Tuesday (Sep. 3) to emailed requests for comments on the suit.
Grande's complaint stated that Forever 21 and Riley Rose misappropriated at least 30 images and videos, including using audio and lyrics from her recent No. 1 single "7 Rings", and also by featuring the look-alike model in their ad campaign.
"The resemblance is uncanny," noted the complaint of the Forever 21 model and the pop singer.
Grande's lawsuit in Los Angeles federal court seeks US$10 million (S$13.9 million) in damages for false endorsement, copyright and trademark infringement, and violating her right of publicity.
Send in your scoops to news@theindependent.sg