Jennie from K-Pop girl group BLACKPINK enjoyed her time overseas at Ariana Grande's Halloween Party recently.
The singer uploaded photos on her Instagram attending Will Smith's youngest daughter Willow Smith's birthday party and Ariana Grande's special Halloween party on 31 Oct.
Billboard topping stars like Lizzo and Nicki Minaj were part of the guest list.
For Ariana Grande's Halloween party, Jennie dressed as Alice from Wonderland and shared photos taken with Ariana's best friend Alexa Luria on SNS.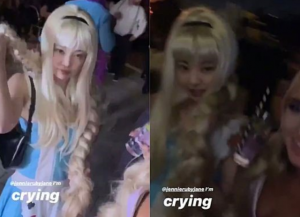 Another party that Jennie also attended previously was Kendall Jenner's Halloween party where top stars like Justin Bieber's wife Hailey Bieber, Gigi Hadid, Bella Hadid's sister and Jaden Smith made an appearance.
In other news, BLACKPINK recently completed their first world tour with 32 performances in 23 cities in four continents after releasing of their 2nd mini album Kill This Album in April.
This coming December the group will be performing at the Tokyo Dome, Osaka Kyocera Dome in January and Fukuoka Dome in February.
Back in August, US singer Ariande Grande's wish is to take a group photo with BLACKPINK.
Seeing that logistically that's not possible then, she settled for the next best thing, which is to be edited into a photo with the popular K-Pop group.
On August 16, American music producer Tommy Brown shared on Instagram a photo that he took with BLACKPINK in Korea.
Brown, who has collaborated with Ariana Grande on many of her songs including her recent hits "7 Rings" and "Thank U, Next"—playfully wrote in the caption that he was a "New member of [BLACKPINK]. I know I'm your favorite."
Jisoo responded by jokingly commenting, "Welcome," while Ariana Grande expressed her envy by writing in the comments, "This is the best photo I've ever seen," followed by "Please and I mean please… please photoshop me in." 
Shortly afterwards, Tommy Brown made Ariana Grande's wish come true by posting a new version of the photo, this time with the American singer edited in. He jokingly added in the caption, "Sry here's the real one."
Ariana Grande playfully responded in the comments, "Ty so good seeing u guys." Rosé reacted to the edited photo with an enthusiastic "Gahh," while Jennie commented, "Lmy guys already."