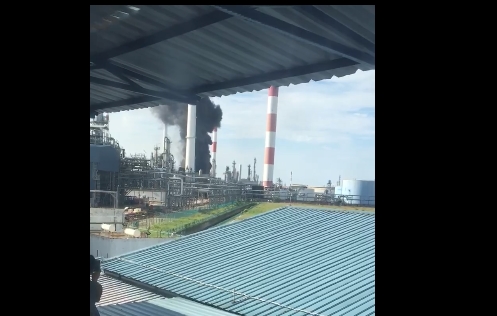 Facebook user Marcelo Adolfo Gengosa posted a video which showed black plumes of smoke rising up beside refinery chimneys in Jurong Island. Singapore Civil Defence Force (SCDF) said they were responding to a fire at Singapore Refinery Company. The fire started at about 9.50am.
Fire ???? inside Jurong island at SRC near POA office. Please keep safe guys…

Posted by Marcelo Adolfo Gengosa on Monday, 12 June 2017
This is the second fire in recent months on the island. On 20 April, a massive fire broke out on Jurong Island after an oil tank caught fire.
Oil tank catches fire at Jurong Island

A massive fire has broken out on Jurong Island after an oil tank caught fire. The tank contained light crude oil and measured 40m by 20m. Read more: http://bit.ly/1SYP6muA reader sent this dramatic video to TODAY. Can you see the fire from where you are? Send us your videos and photos at today@mediacorp.com.sg

Posted by TODAY on Wednesday, 20 April 2016