The screen of Samsung's Galaxy 10, which will most likely be launched in the latter half of February 2019, will very likely feature a serious upgrade that fans and techies are eagerly looking forward to seeing—the Infinity-O design display.
In actuality, Infinity Displays already exist. We see them in the latest of Apple's iPhones, in that the bezels (or the edges around your phone screen) are virtually gone from the iPhone. The effect is that you get a bigger screen display, without necessarily getting a bigger phone, which would then go beyond the size of what a comfortable grip should be. Apple removed its 'Home' button from its most recent models and joined the Infinity Display bandwagon.
Read related: A first look at Samsung Galaxy S10
Samsung actually debuted its Infinity Display a year and a half ago with the Galaxy 8 and 8+, boasting an "end-to-end screen" with a "smooth, continuous surface," for users to have a "higher screen-to-body ratio than ever before."
Infinity-O screens take this experience one step further, placing a small hole at the top of the display for a front-facing camera, rather than a notch, like what Apple did with its iPhones. After all, when the iPhone X came out, some users complained that the notch got in the way of the screen—a fair point, considering the finiteness of that particular display.
Now an insider from the company is claiming that Samsung will be the only smartphone maker with this technology, at least for a timeframe of inclusivity. Reports from Korea say that these displays are now in the production stage for Samsung's new phones.
Samsung calls this their Hole in Active Area screen design (HIAA), with the reports talking about the laser tools used to make holes into the phones' OLED display screens.
However, Huawei is obviously on Samsung's heels when it comes to the Infinity-O design. A teaser of Huawei's newest Mate 20, set to launch this month, is showing the model with what looks like a very similar small hole in the top left-hand corner of its display, prompting fans on Twitter to speculate,
"Huawei will release the world's first hole-screen mobile phone before the Samsung Galaxy A8s, which will be released in December, but the A8s may also be released in December, so who will start, it will wait and see.
Huawei's offensive against Samsung has never weakened."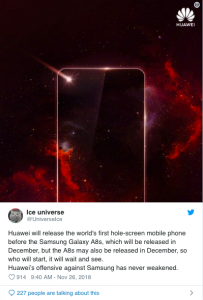 Follow us on Social Media
Send in your scoops to news@theindependent.sg