The Singapore Democratic Party (SDP) pulled out all the stops and called out the incumbent People's Action Party (PAP) after the reading of the Budget 2019. In a statement they released on social media, as well as via email, Dr Chee Soon Juan Secretary-General wrote that "History is repeating itself" as the elections draw nearer.
Dr Chee said that prior to the General Election in 2015, they gave out "concessions here, rebates there and [got] everyone drunk with SG50 merriment".
"But what happens when the party is over, my friends?" he asked.
"Your housing loan is still not paid, the electricity bill has gone up, and the guy that threw the party now sends you the bill for the cake, the decorations and the drinks".
Dr Chee continued, "True enough. After GE 2015, the PAP raised water prices, car-park charges, bus fares, ERP rates, gas and electricity tariffs, town council charges, and kindergarten, polytechnic, ITE, university fees, etc. It is going to raise the GST in a couple of years time".
The SDP disagreed with the spending of the budget, calling it "myopic and irresponsible".
Dr Chee also said, "nothing in the current Budget addresses the high cost of living in the world's most expensive city, the seriously unaffordable public housing, and an outmoded education system that does not prepare our children for the future".
https://www.facebook.com/cheesoonjuan/posts/10158728062918849?__xts__[0]=68.ARAPdHXF-07NDuQhyPOeHgXghbrcBhVULXdV7OZpjGlAyAyDLR-of6nVziUVaCbsFS9uZuFmpkUu_6jgGCitYuCSLdI2Dke9EksgVLdx1qbcWYXmUJo72Amd3LaPsUDRlvv52Dco2F908tX9odxa2W9xHQ_sYNU9VMxhCavOp_zP0C4fAgY9YYwpCGzJ5Cls7C3fUpPo5ZauXr7WiAIrLinF9NAUQaOfRG5jBPhoAfh-_Hj2qZauoEyvGXdX9tN1rrAkiecXJPmpjFRV2J8Dhj6FODOMX2SYsnPAA_YWal6VRY8IrdEm2khHC5s-4Ex66yNlh3cVHv4f20rOfQ&__tn__=-R
While those who commented on Dr Chee's Facebook post were indeed in agreement, many expressed a 'take first, think later' sentiment, saying that they would be foolish to refuse the goodies thrown their way.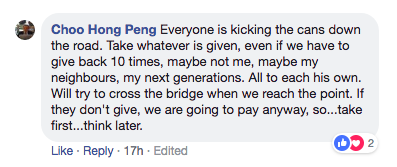 Follow us on Social Media
Send in your scoops to news@theindependent.sg