Mummy Yummy is a food stall business with a big heart. Last November we reported that they give a 50 percent discount for vegetarian meals to cleaners and housekeepers near their stall in Shenton Way, and have been doing so for the past two years.
Last Friday, February 15, the people behind Mummy Yummy Singapore made an appeal for help for one particular elderly woman, Madam Neo, who is in dire straits and sells cardboard pieces at S$0.05 per kilogram to support herself and her mentally disabled son.
To make matters worse, Neo has fallen ill with arthritis and has been unable to go out and sell the cardboard she has collected. Her bills have been piling up, and, according to Mummy Yummy's post, she is contemplating suicide to end all her troubles.
The food stall owners are calling upon the good citizens of Singapore to step in and help out, specifically with sponsoring the daily meals for Neo and her son, as well as sponsorship for their monthly utility bills.
In what is presumably an update, Mummy Yummy added that meal sponsorships have been raised for three months and that a sponsor for utility bills has been found as well.
The post also contains a contact number for a certain Jeana (9725 0118), should anyone wish to contribute to the needs of Neo and her son. The post originally ended with the group's pledge to do even more for the needy.
"Once again thank you for your attention and in 2019, Mummy Yummy will continue to strive harder for the less fortunate groups of people living amongst us.
One for all, all for one!"
In an addendum to the post, Mummy Yummy wrote that the Ministry of Social and Family Development (MSF) has reached out to the food stall and they are coordinating with them for more help for Neo and her son.
They also said that they are providing daily meals for the two.
Madam Neo's story
Mummy Yummy's post chronicles the daily struggles of Neo and her son in detail.
She needs to sell at least 60kgs of cardboard every day for their meals.
They can only afford to have rice once a day, and their other meal comes from donated bread from a nearby shop.
Neo herself goes without breakfast daily.
Her son is her biggest source of concern. Aside from being intellectually handicapped, he also has a serious skin ailment and needs regular medicines to prevent his skin from bleeding and tearing off.
She receives $150 worth of government vouchers, which she spends on disposable diapers and cooling powder for her son, as well as some basic items.
Neo and her son have been going without proper meals for the last fortnight since she fell ill with arthritis.
As Mummy Yummy writes, "For the last 2 weeks, everyday for them is living hell without proper meals and totally ZERO aid. Their utility bills are stacking up and there is no end to trouble for Neo to the extent she is contemplating ending her life to stop her suffering once and for all."
Netizens and MFS respond
Netizens have responded to Mummy Yummy's post with offers of assistance. Some offered to help with meals, others with paying for the utility bills, and yet others, with cleaning her house.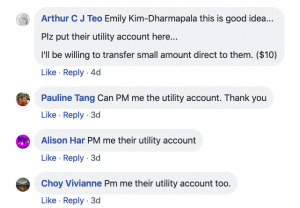 Singapore's Ministry of Social and Family Development (MSF) responded to the post as well, saying they are in coordination with Mummy Yummy in order to give Neo and her son the assistance they need.
The Ministry also asked for further information on them, and added that if anyone knows of people who need help, to reach out to MSF.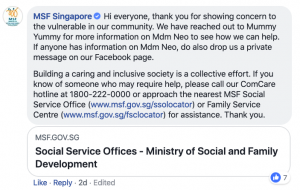 Read related: Hawker stall believes in 'doing good'—offers food at half price for cleaners
https://theindependent.sg.sg/hawker-stall-believes-in-doing-good-offers-food-at-half-price-for-cleaners/
Follow us on Social Media
Send in your scoops to news@theindependent.sg