NUS world ranking achievement, in tandem with NTU, has placed Singapore at the forefront of academic excellence in Asia. The National University of Singapore (NUS) and Nanyang Technological University (NTU) have not only clinched the top two spots in Asia according to the latest Quacquarelli Symonds (QS) university rankingsbut have also tied for 11th place in the global standings.
This remarkable accomplishment underscores their commitment to innovation, research, and global impact, further solidifying Singapore's position on the world's educational stage.
QS Asia University Rankings 2020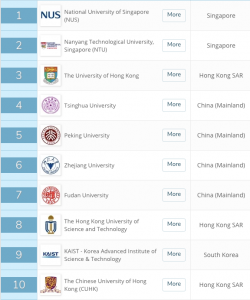 NUS and NTU are in the first and second places, respectively, in the list of top universities. Rounding up the top five are The University of Hong Kong (third place), Tsinghua University in China (fourth place) and Peking University in China (fifth place).
QS World University Rankings 2020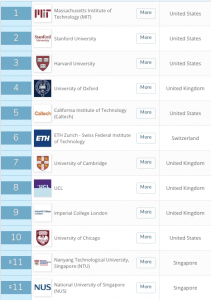 Massachusetts Institute of Technology (MIT) in the United States retained its title of world's top university, which it has held consistently since 2014. Stanford University, also in the US, has held the number two spot since 2017. In third place is Harvard University in the US. The prestigious university fell to third place in 2017, where it has remained since.
Oxford University in the UK has climbed back to fourth place, from sixth place in 2018 and fifth in 2019. Another revered UK institution, the University of Cambridge, has steadily fallen from second place in 2015 to its current ranking of seventh place. In fifth place this year is California Institute of Technology, which fell one place from last year's rankings.
NUS wows with an almost perfect score
NUS earned perfect scores in nearly every grading category and was given an overall perfect score of 100. NUS scored 100 in most categories, with the exception of faculty-to-student ratio (95.4), international student ratio (99.4), number of faculty staff with a PhD (97.3) and papers per faculty (71.3), which was its lowest score.
According to QS, NUS' scores were "a representation of how well rounded this top university really is".
In October, NUS was also named top university in Asia on the US News & World Best Global Universities Rankings.
NTU was given a 5+ Stars QS rating
NTU, second only to NUS in Asia and tied with it for 11th place globally, was also given a 5+ Stars QS rating—the highest marks possible—based on indicators like research, employability, internationalisation, teaching and others.
NTU scored higher than NUS when it came to the faculty-to-student ratio (98.1) and in higher institutional research quality, scoring 100 in the category of citations per paper.
Both universities achieved the same scores in the areas of international faculty ratio and international student ratio, but NTU fell 30 points below NUS in terms of faculty staff with PhD qualifications.
The QS rankings have been published yearly since 2009. The methodology relies on institutions scores on 11 indicators, with each indicator corresponding to a different weight-age for final score calculation./TISG