BTS's Jungkook was in a minor car accident recently and his management released an official statement regarding the incident.
Here's the statement from Big Hit Entertainment:
"This is a statement regarding member Jungkook's car accident.

The police have not closed this case yet, so we cannot reveal the exact details, but Jungkook was driving his car last week when he had a minor collision with another vehicle due to his own mistake.

Both the victim and Jungkook did not sustain any major injuries.

Jungkook admitted that he violated the road Traffic Act immediately after the accident. The scene of the accident was resolved and police questioning was completed according to the due process, and an amicable settlement was made with the victim afterwards.

We once again apologize to the victim, and we also express apologies for causing concern to fans.

Thank you."
BTS's Jungkook is being questioned by the Seoul Yongsan Police Station that booked Jungkook on the charge of violating the Road Traffic Act on Nov 4.
On Nov 2, while driving his Mercedes-Benz in the neighbourhood of Hannam in Yongsan District, Jungkook violated a traffic regulation and hit a taxi.
The taxi driver and Jungkook received treatment at the hospital for bruises.
A source representing the police said they cannot disclose the exact details of the investigation on the accident.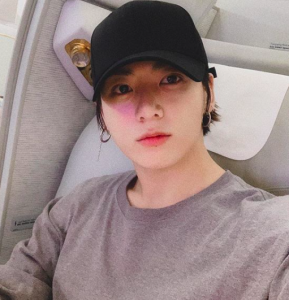 BTS, also known as Bangtan Boys is a South Korean boy band formed in Seoul in 2013.
Its members are Jin, Suga, J-Hope, RM, Jimin, V and Jungkook. The group co-writes and produces most of their material.
In other news, K-pop boy group BTS has officially become the second-ever global artist to top the Social 50 chart in a total of 150 weeks after Justin Bieber according to Billboard on Oct 31.
This marks their 120th consecutive #1 as the group tops the Billboard Social 50 chart for the week of Oct 24.
At 163 weeks, Justin Bieber currently holds the highest number of weeks as #1 on the Social 50 chart.
Taylor Swift and Rihanna have a record of 28 weeks and 21 weeks, respectively.