Following the slew of heated exchanges between Singaporeans and Malaysians after a local student from Oxford debated with Malaysia's Prime Minister Tun Dr Mahathir bin Mohamad, retired Singapore diplomat Bilahari Kausikan took to social media to weigh in on the issue.
In his debate with the Malaysian Prime Minister, Mohan asked if Dr. Mahathir was in agreement that "actions such as these" – where Johor's Menteri Besar Osman Sapian visited a Malaysian vessel anchored in waters claimed by Malaysia and Singapore without permission – contribute to the perception that the [Malaysian government] is pugnacious and acts in bad faith". He also quoted the words of Najib Razak of wanting "to return to the days of confrontational diplomacy and barbed rhetoric."
During their exchange at the Oxford Union, Dr Mahathir defended Johor's Osman Sapian's January 9 visit to a Malaysian vessel anchored in waters claimed by Malaysia and Singapore. He refuted Mohan's claim by saying the ship was in international waters. Dr Mahathir also said that he was amazed with the Island Republic's reaction to the visit.
To this, Kausikan said, "I am amazed that the good doctor is amazed".
"What did he expect? Meek acceptance of subordination of our interests to Malaysian interests?" he continued.
"Actually, on another level I am neither 'amazed' nor even merely surprised. This is typical passive-aggressiveness designed to confuse Singaporeans," Kausikan added.
https://www.facebook.com/bilahari.kausikan/posts/2285757441681672
Netizens were in agreement with Kausikan, but some felt it might be best not to taunt Dr Mahathir lest it stir up further controversy between the two nations.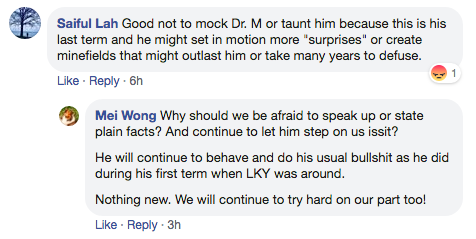 ________________________________________________________________________
obbana@theindependent.sg
Follow us on Social Media
Send in your scoops to news@theindependent.sg