K-pop boy band BIGBANG member G-Dragon was discharged from military service recently and his sister Dami Kwon and fellow BIGBANG member T.O.P celebrated the moment with him.
On Oct 26, G-Dragon was discharged and he greeted his fans. Both T.O.P. and Dami Kwon celebrated his return.
T.O.P wrote on his personal Instagram story, sharing a screenshot of his conversation with G-Dragon.
He wrote, "Congratulations on being discharged. Free G! Congrats." G-Dragon responded with, "Thank you for taking care of my time during my time in the military," and received a heart emoticon from T.O.P in return.
G-Dragon's sister Dami Kwon took it to Instagram to share a photo of her family's reunion now that G-Dragon has been discharged.
She shared a photo of the family with the caption, "Welcome back, celebratory party. Our family is complete."
Along with G-Dragon, Dami Kwon, and their parents is Kim Min Joon, who Dami Kwon got married to earlier this month.
G-Dragon is the second member of BIGBANG to be discharged from the military following T.O.P.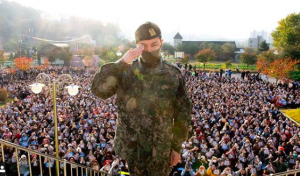 G-Dragon, whose real name is Kwon Ji-yong was born 18 August 1988 and he is a singer-songwriter, rapper, record producer, entrepreneur and fashion icon. He is often known as the king of K-pop.
When G-Dragon was 12, he trained at South Korean entertainment label YG Entertainment for six years before debuting in 2006 as the leader of hip hop boy band BIGBANG. BIG BANG is one of the most best-selling boy bands globally.
Formed by YG Entertainment, BIGBANG consists of four members, G-Dragon, T.O.P, Taeyang and Daesung. Former member Seungri retired from the industry on 11 March 2019.
The members of BIGBANG are said to be the most influential acts to shape the K-pop industry and help spread Korean Wave internationally.
Nicknamed the 'Kings of K-pop' by the media, BIGBANG's stage performances, songwriting and diverse use of music genres make them stand out as a K-pop band.