The Football Association of Singapore (FAS) announced on Thursday, September 13, that Fandi Ahmad, Singapore's national team coach, has issued an apology to a Sikh reporter, Dilenjit Singh  from The New Paper, for an answer he had given him at a pre-match press conference on September 6.
In the statement from FAS, posted on its website, the organization also expressed regrets over Mr. Ahmad's comments. "The FAS regrets that Fandi Ahmad's comments during the pre-match press conference on Sep 6 for the match between Singapore and Mauritius have upset members of the Sikh community."
Mr. Singh had asked Mr. Ahmad, "You said that in terms of skill and technique, some of our rivals in the region have overtaken us. How would that affect you wanting to play the good football which you are known for?"
To which the football coach replied, "We have not all bad… I can't condemn anybody because our system is different from others. I can't say it also, as it is against the Government. You know if I say it loud, you know, you will be seeing your turban would be gone. Seriously bro. I cannot say, I want to tell you. But later private I will tell you."
Afterwards, Harvinder Singh started a Change.org petition on September 7 calling onMr. Ahmad and the FAS to apologise to the Sikh community. Almost 600 people have signed the petition.
The petitioner wrote that he was disturbed that a burst of laughter followedMr. Ahmad's answer, and that media failed to report on the inappropriate remark.
Since then, the FAS and Mr.Mr. Ahmad have apologized to both Dilenjit Singh as well as the the Sikh Advisory Board. According to the FAS statement, "Mr. Singh gracefully accepted our explanation and apology. Our discussion with the Sikh Advisory Board has also revealed that the comments could be hurtful to the Sikh community even though they were not made with any malicious intent."
Some netizens agreed thatMr. Ahmad needed to apologize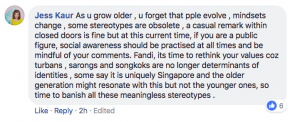 Others lauded him for apologizing

However, many insisted that the issue was blown out of proportion, and thatMr. Ahmad meant no harm






However, some people believed that it was the context of the remark–a national press conference–that made it especially inappropriate



Some asserted that people really need to be careful with what they say

Send in your scoops to news@theindependent.sg