A foreign domestic worker known as Mamaa Isco took to Facebook yesterday evening to share the heartbreaking tale of how she was yelled at in public by her employer for not answering the phone.
Her post, shared on a closed-group on Facebook received many sympathetic comments and reactions from Singaporeans and fellow foreign workers alike.
Mamaa Isco wrote that she accompanied the grandmother of the family for her usual therapy, which ended slightly later than usual.
She added that after the therapy she, "call[ed] taxi, then wait around 6 minute. We use wheelchair so I need time to help mama (the grandmother) go in and out taxi. We arrive at 11+, then mama said no need to cooking, we buy food. After that mama ask me to push wheelchair to jalan jalan (walk around)".
She wrote that even while they were strolling around in the market, her mobile phone was in her pocket, citing that she never used her mobile even if she was with the elderly lady. The domestic helper also said that she did not want to juggle pushing the wheelchair and having her phone in her hand, so as to not knock into anyone.
She wrote that her employer who usually came home in the evenings confronted her and "scolded me at the market [with] a lot of people looking at me as she was worried about mama".
The helper continued and added that the elderly lady was quiet throughout the incident.
"I just don't like if she scolds me at the market", the helper said.
"I do what mama wants. If she asks me to go anywhere. I even wait in the toilet while mama is there because I'm afraid she might fall down".
She continued, "I do my job with honesty, with my heart, But this afternoon really hurt for me. Pain. Really pain".
Many who commented on her post had kind words and good advice for her.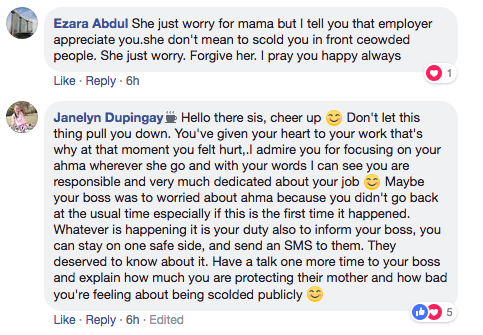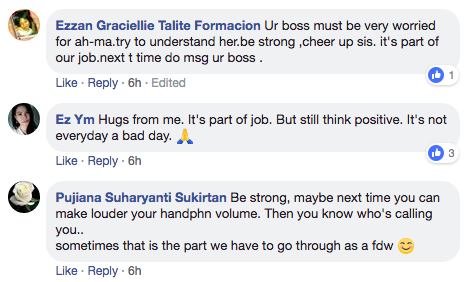 Follow us on Social Media
Send in your scoops to news@theindependent.sg