After a brawl broke out at Hougang Stadium on Saturday (July 27) between the players of Yishun Sentek Mariners FC and Singapore Armed Forces SA, riot police and a SWAT team had to be sent in to break up the fight.
The match was under the Football Association of Singapore (FAS)'s National Football league Division 1. The Singapore Armed Forces SA beat the Yishun Sentek Mariners FC with a score of 1-0 that day, with the fight reportedly breaking out after the match.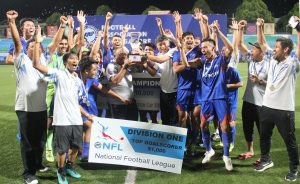 Mr Anza Ronald, manager of the Yishun Sentek Mariners FC spoke to TISG about what he saw that day.
After the match ended on Saturday (July 27) he was alerted to shouting taking place. Upon getting closer to the scene, Mr Ronald was confronted with about 10 players from both sides yelling and fighting with each other.
He said, "I tried to restrain some two to three of our guys".
When asked how many people were in the fight, he said, "I can only guess: 4 who exchanged a push and a kick or 2. There were others, say 10 in total, who were verbally involved".
Mr Ronald was also unaware as to who informed the police, but recalls seeing at least two officers in full riot gear at the scene.
A unit under the Special Operations Command was called in, the Police Tactical Unit was formerly known as the Police Task Force.
This unit helps maintain public order, from dealing with civil disturbances to responding to emergency situations such as riots.
When asked about the fight itself, he said that it wasn't a serious one. Even the police officers spoke to some of the players but left shortly after.
While the coach for the Yishun Sentek Mariners, Mr Gusta Guzarishah was injured in the fight, Mr Ronald added that none of his players pressed charges, and that as far as he was aware, no one was arrested.
The players and coach of the Yishun Sentek Mariners refused to comment on the matter.
TISG has reached out to the Singapore Police Force for comment. -/TISG