Nikkei reports PAP is "walking on thin ice" following recent scandals
SINGAPORE: Japan's The Nikkei, the world's largest financial newspaper, has reported that the governing People's Action Party (PAP) is "walking on thin ice" following a spate of scandals involving high-profile politicians that became public last month.
The article, entitled 'Singapore political drama exposes frailty of Lee's succession plan', covered the corruption investigation involving Transport Minister S Iswaran and the extramarital affair between Speaker of Parliament Tan Chuan-Jin and backbencher MP Cheng Li Hui.
---
Historian predicts PAP will lose more parliamentary seats in coming election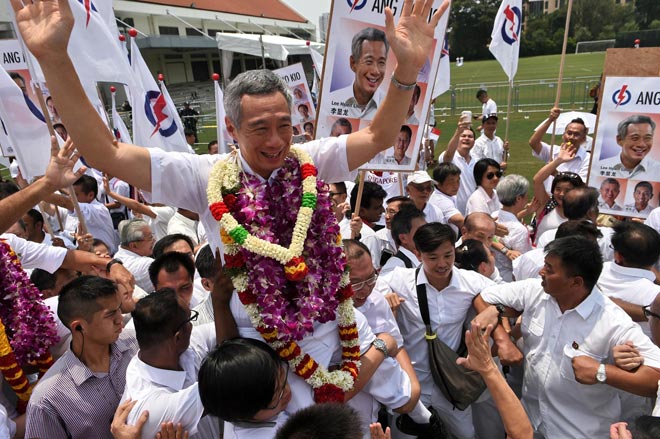 SINGAPORE: Noted historian Michael Barr in an interview published by China News Weekly on Monday (July 31), has predicted that the People's Action Party (PAP) will likely lose more parliamentary seats in the next general election.
Dr Barr, an Associate Professor teaching International Relations at Adelaide's Flinders University, is widely considered an authority on Singapore's political landscape. He has made significant contributions to the academic discourse on Singapore's politics and history and has published several books on Singapore's ruling elite.
---
Lawyer predicts George Goh will not qualify for presidential election
SINGAPORE: Predicting that presidential hopeful George Goh Ching Wah will fail to qualify for the looming election, lawyer and noted socio-political commentator Lian Chuan Yeoh has opined that the Presidential Elections Committee (PEC) should not issue an eligibility certificate to him "to respect the rule of law."
Mr Goh is among four who are eyeing the head of state seat, alongside ex-Senior Minister Tharman Shanmugaratnam, ex-GIC chief economist Ng Kok Song and ex-NTUC Income CEO Tan Kin Lian.
---
Couple holds wedding dinner celebration in coffeeshop at Lengkok Bahru, goes viral for being frugal & practical yet enjoyable and included everyone
SINGAPORE: A couple who decided to throw a wedding dinner at a coffee shop at Lengkok Bahru has gone viral on social media. Many online users wished the newlyweds blessings and commended them for putting together such a practical yet enjoyable celebration with their loved ones.
The heartwarming video of the newlyweds who chose a simple yet special venue to hose their wedding dinner has garnered over 31,000 views on Facebook.
---
Man locks 9 ex-colleagues in office because he got fired
SINGAPORE: A man who padlocked the main door of an office for an hour after getting the boot received a S$4,000 fine on Aug 7 (Monday).
After his ex-colleagues discovered they had been locked into their office building, the business owner had a locksmith remove the padlock and then filed a police report against Vict Lim Siong Hock, now 52. CNA reported that he had worked as a driver and logistics assistant for the company but was fired before his probation period was over.
---