Singapore—The world is full of perverts. Many of them might go unnoticed or escape justice, but some go to social media to share their escapades.
On August 15 (Thursday), an Instagram user based in Singapore started posting photos of himself with allegedly stolen underwear and shorts.
His first loot was a pair of pink lace thongs. He posed with the panty stuffed in his breast pocket like a boutonniere.
"Public panty sniffing. Block 356 Tampines Street 33," read the caption.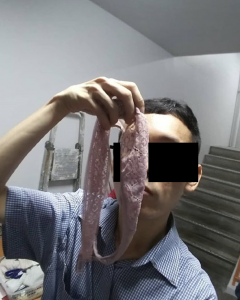 He posed a few more selfies with the panty, even one that showed him sniffing it.
In another post, it seems the man went to Choa Chu Kang for a pair of black shorts.
"Public pcc (probably meant pa chew cheng which means "to masturbate") onto black shorts. Then after that just hang back at the same place I took it," read the caption.
According to the post, the man allegedly released "3 days' worth of load" on the shorts and it "will dry up by morning." The caption included the address, Block 518 Choa Chu Kang Street 51, which is allegedly the location where the shorts were discovered.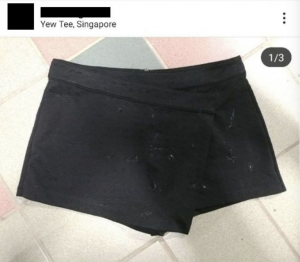 According to a report by Stomp, the 34-year-old man was arrested for public nuisance.
The police received numerous reports of a man performing lewd acts along the common corridors of HDB blocks in Tampines and Choa Chu Kang.
Less than eight hours after the initial report, officers from the Jurong Police Division identified the man and arrested him in the early morning of August 16.
In one of his recent Instagram posts, the man wrote, "Don't act like you guys don't like this kind of things. I will still continue to collect them. Will be posting a video of me sniffing soon."
The suspect is currently in a holding cell, according to an Instagram story posted on August 16 at 5 pm. "Will be updating soon, follow to find out," read the caption.
If convicted, he risks a fine of up to S$1,000. He will be charged on August 17 (Saturday).
Read related: Peeping tom pervert advises ladies to use handicap toilet in Clarke Quay so he can pry open the door with a coin
Read related: Pervert gets 9 weeks jail for taking upskirt videos of women at MRT stations