A man who alighted on his way home from work just to direct traffic was highly praised by netizens and road-users. The man, only known as someone from Yusen Logistics, volunteered to guide traffic when traffic lights were spoilt at an intersection along Paya Lebar road and MacPherson road.
Netizen LiTing TaRa was on her way to pick-up her husband when she noticed a huge traffic jam, due to traffic lights being faulty.
She wrote, "I had to make a right turn. Vehicles going straight had the right of way. I tried to inch forward, or I would never get to move further. I was so desperate to reach my destination as I had a crying infant in the car."
It was only then that she saw the man directing traffic.
"As I observed the situation further, I realised there was a man in blue who volunteered to guide the road users. Immediately, I felt so relieved", she added.
The netizen also said, "I was pretty sure he was hungry and tired, just like all other drivers and pedestrians. However, he sacrificed his own time and volunteered to be a guide to all the road users".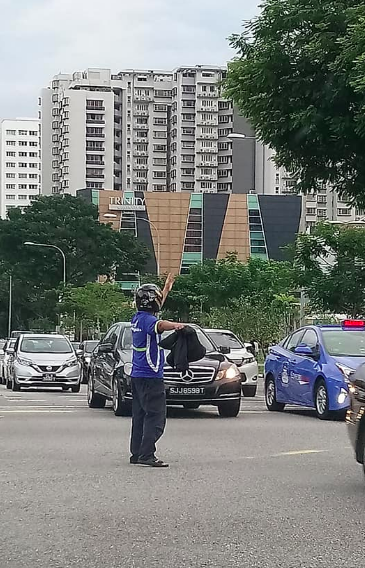 She added that she wished that she got the chance to thank him, but because she was in the car, she did not get the chance to do so.
LiTing ended her post on a very grateful note saying, "You are a great hero! From the bottom my heart, thank you very much. You saved all our time. And I could hug my crying girl earlier because of your selfless sacrifices".
Many other netizens also commented and shared her Facebook to thank the motorcyclist who stopped his commute to help all the rest of his fellow road-users.



________________________________________________________________________
obbana@theindependent.sg
Follow us on Social Media
Send in your scoops to news@theindependent.sg