Several netizens are complaining about the recent Corrupt Practices Investigation Bureau (CPIB) action against several crematorium workers who accepted angpows from mourners.
On Friday, the Chinese daily reported that over 20 workers at crematoriums and private family businesses are in trouble with the authorities and have been called up by the CPIB for investigations.
Some netizens online have compared the CPIB action against these workers to the internal action Keppel leadership faced when their bribery scandal came to light. Facebook user Mohamed Jufrie Bin Mahmood wrote online:
"Some months ago a PSA forklift operator was hauled up by the CPIB and charged in court for allegedly receiving a $1/- tip. Two days ago a group of workers at the Mandai Crematorium were also taken in by the bureau for accepting CNY hongbao from mourners.
"Yes, take them to task if you have to, to keep Singapore corruption free. But strangely none of the Keppel boys were even called up by the bureau for bribing Brazilian officials with a whopping $50 million dollars. Only internal disciplinary actions were taken against those involved.
"Could it be that if they go to court and claim trial other senior and more important people might be dragged in and be implicated? State linked companies do not just release such a huge amount of money without getting a nod from some big wigs. Singaporeans want to know who are they. How much more ridiculous can things get?"
Late last year, news broke that Keppel Offshore & Marine was involved in a mega bribery case in Brazil. Some US$55 million were reported to have been paid by a Keppel agent to Brazilian govt officials in order for Keppel to secure deals in Brazil. These "improper payments" were made over a period from 2001 to 2014, and they were carried out with the knowledge or approval of former Keppel senior executives.
When Bloomberg broke the news last August, Keppel quickly issued a public statement to deny the allegation. The Temasek subsidiary only came clean four months later and acknowledged that the corrupt payments made by their agent to Brazilian officials were "made with knowledge or approval" of former senior executives of Keppel.
Keppel Offshore & Marine USA pleaded guilty to the bribery scheme which ran for more than a decade, while its parent, Singapore-based Keppel Offshore & Marine, entered into a deferred-prosecution agreement with the government. It agreed to pay $422 million to end the U.S. bribery probe.
Mohamed Jufrie Bin Mahmood's Facebook post has gone viral and garnered nearly 380 reactions and over 300 shares on social media so far: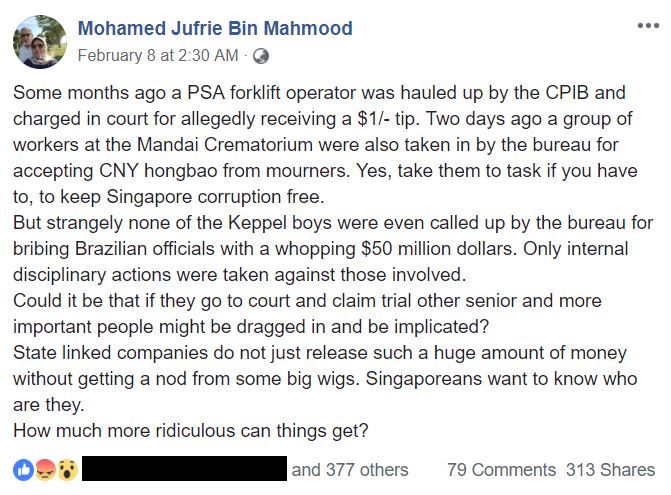 https://theindependent.sg.sg/where-is-your-moral-compass-netizens-criticise-pm-lee-for-claiming-keppel-corps-journey-mirrors-singapores-own/
Follow us on Social Media
Send in your scoops to news@theindependent.sg