Singapore— A woman on a personal mobility device (PMD) moved away immediately, but calmly, after breaking a glass door at Toa Payoh Interchange on June 1 (Saturday), and netizens are very unhappy about it.
To say the least.
SBS Transit posted a video of a woman who crashed into a glass door while riding her PMD. The doors had opened to let her through, but one part of her PMD must have snagged a corner of the door on her left, which can then be seen shattering into pieces.
The woman then gets up, walks perfectly normally, and attends to her PMD. She is later seen walking away from the shattered glass.
SBS Transit wrote as a caption to the post, "This happened at Toa Payoh Interchange this morning. The lady in question left immediately. We would like to remind users of mobility devices to please be careful when moving around in enclosed spaces. We are thankful that no one was injured during this incident."
Tammy Tan, corporate communications senior vice-president for SBS said that a police report has been filed concerning the incident.
She added, "The area was cordoned off and has since been cleared of the glass debris. No one was injured and bus operations was unaffected."
Netizens called the woman out in the comments section of the SBS Transit post, saying that she should at least take responsibility for the damage she caused.
Many were outraged that she seemed perfectly fit to walk, and may not have needed her mobility device in the first place.



Others demanded that she at least compensate SBS Transit for the cost of the glass door.

A disabled netizen commented that the woman was going very fast on the PMD.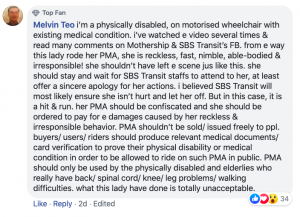 Others wondered if she had any health issues that required a PMD at all.

But one commenter said that just because she could walk did not mean she had no difficulty in traveling long distance on foot.

Here's hoping that this woman, and everyone else who uses a PMD, will be more careful in the future. / TISG
Read related: Law-breaking PMD rider crashes into stationary car, blames driver
Follow us on Social Media
Send in your scoops to news@theindependent.sg