A story of an elderly couple being chased out of the home they sold to their son for free has caused more such accounts to emerge, recently.
This, after Nee Soon GRC MP Lee Bee Wah shared the plight of an elderly couple on social media, this past Tuesday. Lee shared that the couple were asked to vacate the flat that they sold to their son for free once his wife became pregnant. Their son even refused to allow his parents to sleep in the flat's living room:
"A resident told me that she and her husband sold their flat to their son. She did not get any cash from her son as she want to help her son.

"Now her son asked her and her husband to shift out as her son said his baby is due soon. He needs the room for the baby and confinement lady. He also refused to let them sleep in the hall.

"I advised her that if all else fails, they can file for a Maintenance Order. Many parents are reluctant to do this but what they don't realise is that officers will first attempt to reconcile them. Also arranged for grassroots to follow up if she needs assistance.

"Sharing this as we can learn a lot of lesson from this episode."
The story of the elderly couple went viral this week, with several netizens urging the elderly to keep their flats for themselves to avoid such a scenario.
In the public uproar that ensued as the story gained traction online, many Singaporeans felt that the Government should implement measures to better protect older people who give their homes to their children.
Amid the heated discussion over the elderly being treated poorly by their own children, more stories of children treating their parents poorly after acquiring their flats have been emerging.
One such story was shared online by redditor, u/tehpenggao, who shared that her great-grandmother passed at the relatively young age of 50+, after she was chased out of the home she sold to her son.
u/tehpenggao shared that her great-grandmother signed her flat over to her son (the redditor's grand-uncle) after he promised that she could live with him, his wife and their children. Once the redditor's grandmother signed the flat in her son's name, he sold the flat and she went to stay with him, as promised.
The senior's stay with her son did not last long. Her great-granddaughter shared that her grand-uncle's wife chased her great-grandmother out of the house. None of the great-grandmother's other children were willing to take her in.
When the redditor's uncle became furious at how his grandmother was treated, he wanted to take her in to live with him. However, his uncles and aunts refused to allow him to do so because it is "very throw face to let the younger ones take care".
The redditor's great grandmother was left in an old folks' home, under the guise that this would be a temporary arrangement. Too depressed to eat, she died in the old folks home shortly thereafter.
Unfortunately, her grandson who wanted to take her in passed away from cancer a few years later.
"That's what happened to my great grandma. She signed her flat over to her son (my grand uncle) and he promised she can live in his flat with his wife and kids (painted a happy paradise for her). He then sold her flat.

"Soon after grand uncle's wife didn't like staying with great grandma and chased her out. Her other children don't want to take her in (my grandma passed away at 50 plus), and basically taichi her around and she ended up in some sad old folks home

"My uncle was furious and said he'll bring her to live with him. Guess what? All the grand uncles said no, coz "very throw face to let the younger ones take care"

"Great grandma died shortly in the old folks home. Apparently too depressed to eat.

"At the funeral my aunts and uncles all gave the grand uncles the stink eye. They still had to cheek to tell the visitors my great grand mother is so blessed to have many people attending and such a big funeral. My mum said, well what's the point when you don't treat her well while she was alive.

"Still makes me mad when I think about it.

"Edit: so I asked my mum more deets. She said my grand uncle bluffed my great grandma the old folks home was just a temporary stay (but never intended to take her back). And my great grandma had to pay half the fees from her own savings.

"But the grand uncle died from cancer few years after my great grandma passed away."
[Click images to enlarge]
Meanwhile, another Redditor shared a similar story that happened to a friend's mother.
u/6463694 wrote that her friend's mother sold her flat and gave the proceeds to her son so that he could buy his own home, if he allowed her and his sister (the redditor's friend) to live with him and his wife. The son readily agreed.
Unfortunately, when the redditor's friend and her mother moved in with her brother, the brother's wife turned abusive. With nowhere else to turn, the mother and daughter put up with the abuse and found no help in the brother who turned a blind eye to his wife's abuse.
Finally, when the redditor's friend confronted her sister-in-law, she and her mother ended up being chased out of the house:
"Friend's mother sold her flat and gave the money to the son to buy his own flat. He promised he would let the mother and my friend (youngest unmarried sister) live with him and his wife.

"They move in and SIL becomes abusive. Brother is spineless. They put up with abuse for years because they have no where else to stay. Finally my friend confronts the SIL about the abuse and she and the mother ended being thrown out."
[Click image to enlarge]

In yet another case, redditor u/GramTooNoob shared that their aunt shared similar experiences after she transferred her flat to her daughter's name and found that her daughter's attitude towards her changed.
This redditor's aunt, however, took things into her own hands, after her daughter "started making tons of noise" over issues like how things in the house were arranged, and bought a smaller flat for herself to avoid conflict:
"In one of my relative's case (aunt), she transferred the house to her daughter then the daughter's attitude totally changed. Suddenly she doesn't like how things are arranged in the house and started making tons of noise, until the mother fed up and bought a 1 room flag with her own personal savings to avoid conflict."
[Click images to enlarge]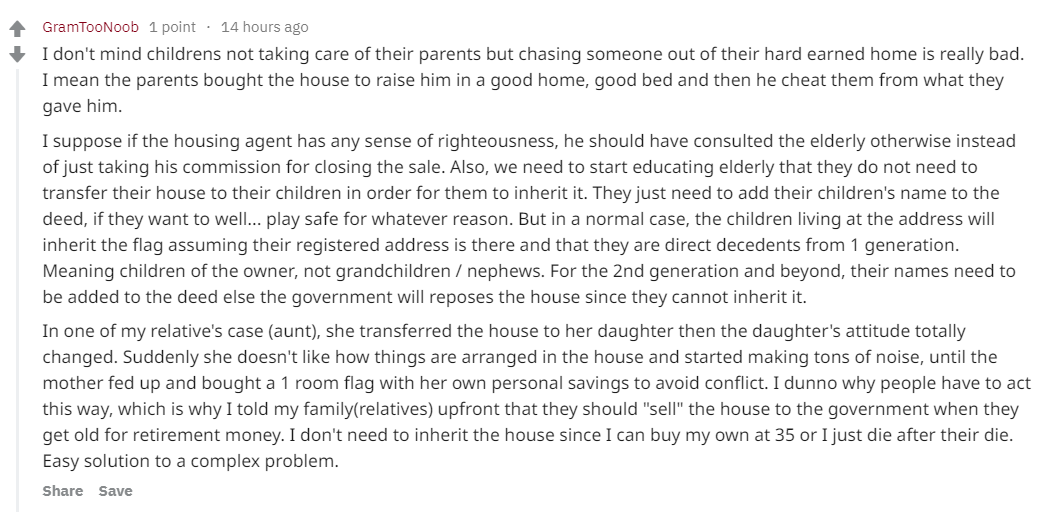 Meanwhile, EDGE Singapore has produced a video asking older Singaporeans whether they would expect their children to take care of them in their twilight years. Interestingly, many interviewees expressed that they would not expect their children to do so, with some adding that they cherish their independence:
https://theindependent.sg.sg/elderly-couple-sell-their-flat-for-free-to-son-only-for-him-to-demand-that-they-move-out-when-his-wife-becomes-pregnant/Follow us on Social Media
Send in your scoops to news@theindependent.sg 
No tags for this post.