It was indeed a Christmas surprise for one lady passenger who found herself to be the only one passenger in her 11 pm Christmas Eve flight from Davao to Manila, via the Philippine Airlines (PAL).
Louisa Erispe, who works as a news correspondent of the Philippine government-owned TV network, became the lone passenger of PAL flight PR 2820 last Dec 24. She said, "But I'll be flying alone tonight in the plane. No other passenger, only me. Hehe."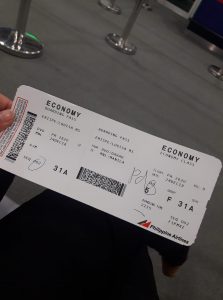 Photo: Screengrab from Facebook/Louisa Erispe
The only people with her were the crew and the captain, Capt. Khalil Faustino.
Even if it was a short flight of 2 hours, Erispe did not miss the opportunity to take a picture with the crew.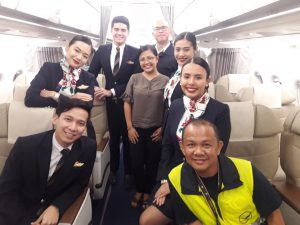 Photo: Screengrab from Facebook/Louisa Erispe
Nevertheless, she thanked the crew and the captain for one such memorable flight "for the safe and remarkable trip. God Bless." She even praised the airline, "Kudos" for still letting her fly. She called PAL, "the best airline so far".
Her flight got rebooked for an earlier schedule. PAL was not able to contact Erispe for the change in time among the other passengers who purchased for the flight. Her ticket was paid by her company; so, the airline decided to fly her in that late night flight.
She treated this first time experience with a joke. She posted in her Facebook, "I don't know what to say and I don't know what to think."
 However, she admitted that she couldn't help but feel nervous so she just relied on prayers for safety. "I was nervous, hahaha. It's up to you, Lord," she muttered in Tagalog.
Erispe posted an update of her successful arrival to Manila. She said it was a safe one and she was able to transfer from one seat to another during the flight.
A lot of netizens speculated some reasons why Erispe ended to be the only passenger.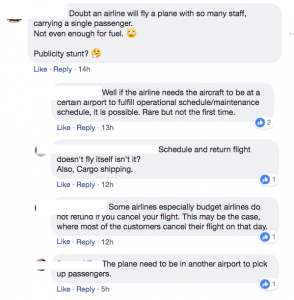 Photo: Screengrab from Facebook
A witty comment was posted by one netizen on how many demos were done during the flight, Erispe replied jokingly.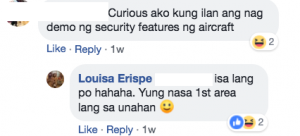 Photo: Screengrab from Facebook/Louisa Erispe
Others also shared somewhat the same experience with their flights in the past.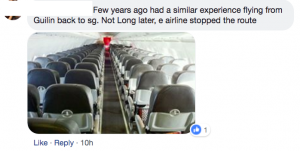 Photo: Screengrab from Facebook
But two netizens were able to take note of the SEQ 002 on the ticket, which means there was another passenger who checked in before her.


Photo: Screengrab from Facebook
Follow us on Social Media
Send in your scoops to news@theindependent.sg