Kate Middleton, the Duchess of Cambridge took time off for a week from royal duties to spend time with her brood – Prince George, Princess Charlotte and Prince Louis during the half term of fall.
She spent time with her two eldest kids Prince George, six, and Princess Charlotte, four,  who were on a school break.
Kate will be returning to public life with Kensington Palace announcing that the Duchess will be visiting East Anglia's Children's Hospices' new centre The Nook on Friday 15 November.
There will be a reception for children and families as a plaque will be unveiled to officially open a new building in Framingham Earl, Norfolk.
Since 2012, Kate has been a patron of the charity, launching the £10million Nook Appeal five years ago to replace their old facility at Quidenham and raise funds for a new state-of-the-art children's hospice.
A hydrotherapy pool, sensory room and en-suite family accommodation will be part of the new building.
Care and support is provided by the charity to children suffering from life-threatening conditions and their families from Cambridgeshire, Essex, Norfolk and Suffolk.
Express UK quoted HELLO magazine as saying:
"The Nook is a 21st century building to provide 21st century care, spread across a single floor, with more areas for clinical care, larger and better equipped en-suite bedrooms, dedicated therapy rooms and much more.
"It will allow us to fully cater for an increased demand for our service and the ever-changing and more complex needs of those we care for.
"Set on a five-acre woodland site, closer to the centre of the county, hospitals and road networks, it also means the majority of families and staff will travel shorter distances to receive and deliver care."
Remembrance Day will be celebrated with Kate attending engagements with other members of the Royal Family ahead of opening of the new centre.
The royal couple is expected to attend the Remembrance Sunday service at the Cenotaph, even though Kensington Palace have yet to announce the Duke and Duchess of Cambridge's plans.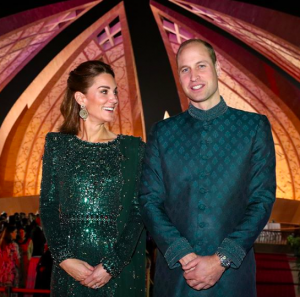 After Kate's five-day tour with husband Prince William to Pakistan, she has not undertaken a royal visit since then.
Badshahi Mosque, the National Cricket Academy and the SOS Children's Village that provides homes for children in need are the places the royal couple visited.
Kate and Prince William also spent the half term break at their country home in Amner Hall, Norfolk.
The Duchess was seen shopping for groceries with her children in a Sainsbury's near the area.
Sister-in-law Meghan Markle is said to receive support from Kate recently after Meghan revealed her struggles with royal life.
A royal insider shared that Kate has been doing her best to bring everyone together.
Royal author Phil Dampier told Express.co.uk: "Behind the scenes, I'm told Kate is doing her best to bring everyone together and help Meghan.
"I'm told she has reached out to Meghan and spoken to her on the phone.
"Kate feels sorry for her and knows that Meghan is struggling."
According to Dampier, the mother-of-three reminded Meghan that she is not the first member of the royal family to go through "a bad patch."
Dampier said: "Catherine has told Meghan that every royal – including herself – goes through a bad patch with the press but the important thing is to learn by mistakes, move on and get through it." /TISG