Singapore Airlines (SIA) recently announced that the nation's flagship carrier will undergo major rebranding, giving rise to the question yet again as to whether or not it's time to remove the iconic "Singapore Girl" completely.
In the age of #MeToo and the resurgence of feminism all over the world, maybe it's time for Singapore Airlines to focus on something other than the Singapore Girl, although this has been the airlines' most important symbol for almost five decades now.
However, can SIA even go in another direction? For many consumers, the Singapore Girl and the airlines are interchangeable. In their minds, Singapore Airlines IS the Singapore Girl.
Branding is important, and let's all admit it, the Singapore Girl is the heart of the whole brand. Therefore, if SIA does opt to go a more progressive direction and no longer makes use of the Singapore Girl, will the airline be able to retain everything that the carrier stands for, or would it lose something? 
After all, SIA's most famous tagline is, "Singapore Girl, You're A Great Way to Fly."
In a commentary entitled "Singapore Airlines' rebrand must not downplay the Singapore Girl" in Channel NewsAsia and published on September 5, Maneesh Sah writes,
"Let's take a step back to see what has also made SIA so well-known around the world.
Undoubtedly, the Singapore Girl, introduced by adman Ian Batey in 1972, is the most well-cited visual embodiment of SIA's brand. 
Some critics argue that the term Singapore Girl is sexist, outdated and reinforces stereotypes of subservient Asian women. Shouldn't she take a back seat in the upcoming rebrand?
Yet her success in being recognised by passengers who haven't even flown on SIA proves that she is the soul of the company. By being SIA's personification of quality and its most visible face in its marketing campaigns, the Singapore Girl humanises its employer brand.
She is a tangible representation of efficiency, warmth and the readiness to go the extra mile. She inspires SIA's crew members, pilots, ground and support staff to put the customer first and be proud of being part of a top airline."
Obviously Mr. Sah would fight to keep the Singapore Girl as a major part of SIA.
A few months ago, a well-known travel blog called One Mile at a Time featured Singapore Airlines' latest advertisement "Making every journey personal", calling it a visual masterpiece. However, one of the blog's readers commented,
"It's a beautiful ad, but I just wish it was more than just the "Singapore girl". Like, it is 2018, after all. Could they not have one male cabin staff member to include, or maybe a businesswoman working on spreadsheets? I do love the ad, I love the airline, but I just wish there was some modest effort at least to acknowledgement that there is more balance to life, relationships, gender, sex, call it what you will, than in the 1970s…"
This caused Ben Schlappig, the man behind One Mile at a Time, to stop and think, and then ask the question. "Nearly half of Singapore Airlines flight attendants are male, so why aren't they ever in ads?"
After giving it some thought, he wrote "The way I view it, they're not using the 'Singapore Girl' as a sex symbol, but rather as a symbol for warmth, care, and compassion. Don't get me wrong, that's still potentially sexist, as it fits the stereotype of women staying home and taking care of everyone. It's something they've built their marketing on for decades, though that doesn't mean they shouldn't adjust that over the years, as it's not 1980 anymore."
He ended his article with asking his readers whether the "Singapore Girl" concept is indeed sexist and outdated. Many agreed with him that there is nothing wrong with the "Singapore Girl" and that it is not at all sexist.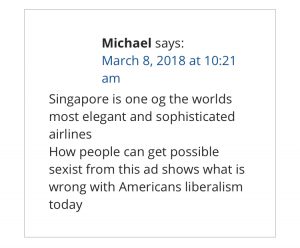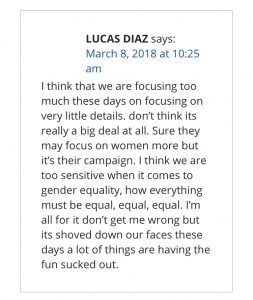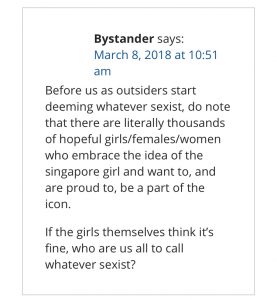 One Singaporean woman thought so as well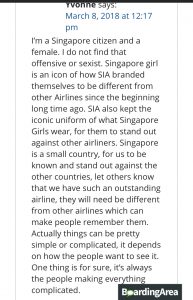 Others disagreed, and maintained that the branding is a form of sexism.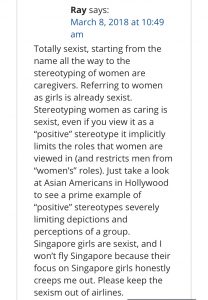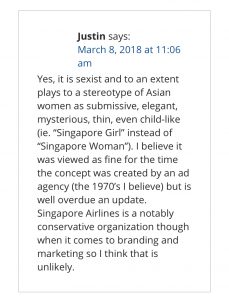 One commenter raised a point about the lack of equal opportunity for women, as compared to men.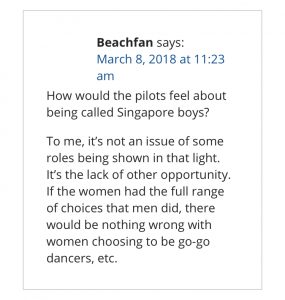 Yet another commenter called SIA out on the sexism within the corporate culture.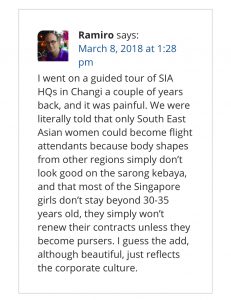 Follow us on Social Media
Send in your scoops to news@theindependent.sg