Fake news that a Singaporean man slept with 57 women within 24 hours is recirculating online, two years after it was first debunked.
The article first appeared on an online publication called the Herald Europe on 6 June 2017. Citing unnamed reports from the Czech media, the article said that a 34-year-old Singaporean broke the world record by sleeping with 57 women within a day, at an unnamed brothel at Prague that apparently holds an annual challenge for who can sleep with the most women.
The Herald Europe reported that the unnamed Singaporean was "rushed to hospital" once he "finished his 57th partner".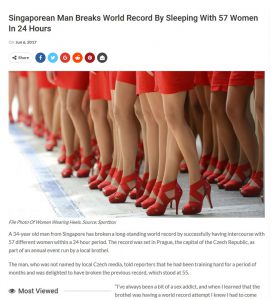 The article was soundly debunked as fake news in 2017 but has been making its rounds on social media in recent months. Another publication, Ghana-based My Joy Online, reproduced the article entitled 'Singaporean man breaks world record sleeping with 57 women 24 hours."
The article, which is re-circulating on social media platforms like Facebook and online forums like HardwareZone, includes quotes from the unnamed Singapore man who purportedly broke the world record.
The fake article claims that the man said he is a "sex addict" who takes unnamed supplements and that he " trained for it just like an athlete would prepare for a marathon." The article claimed that a physiotherapist had to give the man a massage when he was about halfway through.
The article even quoted unnamed judges and said that the judges have to measure that the participant emits a certain volume of fluid in each sexual partner for each session to count. The fake news article also quoted an unnamed official who claimed that previous participants had to have skin grafts or have their sex organs amputated after the event.
-/TISGFollow us on Social Media
Send in your scoops to news@theindependent.sg 
No tags for this post.