In a Facebook post dated August 23, retired diplomat Bilahari Kausikan aired his opinion on the brouhaha surrounding Crazy Rich Asian's author, Kevin Kwan, specifically concerning the news that erupted yesterday: apparently Mr. Kwan is a wanted man in Singapore for not serving his National Service (NS) obligations.
Mr. Kwan was born in Singapore but moved to the United States with his family when he was 11 years old. He has since reportedly become an American citizen, but whether or not he filed papers in a timely manner to attain exemption from National Service because of his acquired citizenship is in question.
According to the Ministry of Defense (MINDEF), Mr. Kwan failed to "register for national service (NS) in 1990, despite notices and letters sent to his overseas address," and "has committed offences under the Enlistment Act, and is liable to a fine of up to S$10,000 and/or imprisonment of up to 3 years upon conviction."
In addition to a post that featured a link to a news item titled "'A private matter': Crazy Rich Asians actors react to news that author Kevin Kwan defaulted on NS obligations," the former diplomat wrote, "True that many great authors were assholes as Kwan obviously seems to be. Of course, whether you consider Kwan's work 'great' is a matter of taste (I don't). But neither Kwan's character nor the quality of his work should detract from Singapore actors getting their shot at the movie big-time. We should wish them well even as we wish Kwan getting his just deserts one day."
https://www.facebook.com/bilahari.kausikan/posts/2189510667973017?__xts__[0]=68.ARA7ZrAVwxZgoY2QgBNCn3bgQe5RLnv85V7riHcgD4cHBHx1KcbiylpbbdeeOjW3nRsOoZokp9HUkqbExUp4f3dDm4NzvLMIWo4eiE7Wryzuqp3QUhy0edyH8kkWGdSaEJDmMwU&__tn__=-R
Mr. Kausikan, who once was Permanent Secretary at the Ministry of Foreign Affairs as well as the country's Permanent Representative to the United Nations, is sometimes referred to as Singapore's "undiplomatic diplomat" and is in the habit of posting his comments on Foreign Affairs on his Facebook page, agrees with the article's premise that the actors in the movie should be given an opportunity to shine in their big break.
Netizens agreed with Mr. Kausikan's assessment of the matter.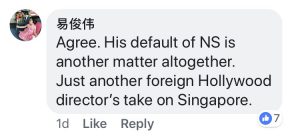 Others put forth the reason that the author had left the country as a child.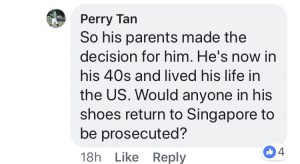 Follow us on Social Media
Send in your scoops to news@theindependent.sg