Historian Pingtjin Thum, activist Jolovan Wham and journalist Kirsten Han are taking another step in striking back at their detractors. The three activists were among a group who met with Malaysian Prime Minister Mahathir Mohammad at the end of August, along with Tan Wah Piow, Sonny Liew.
Messrs. Thum and Han are now asking Prime Minister Lee Hsien Loong to examine the actions of MP for Marine Parade GRC Seah Kian Peng and Home Affairs and Law Minister K. Shanmugam, who publicly criticized the group for meeting with Dr. Mahathir and said that they invited him to intervene in bringing democracy to Singapore.
The activists have also written a letter to Charles Chong, the chairman of the Select Committee on Deliberate Online Falsehoods. On September these letters were released to the press, and to the public as well via a Facebook post from Ms. Han.
https://www.facebook.com/kixes/posts/504676349593?__xts__%5B0%5D=68.ARBez8KYsbLVzS3kEgbigNcA68F-3nVu8e65hDXMlDDGQuMlfc0NOdRVIySXFmtsDMUxrREx-gCHSjerZRXgzTmWIQ35up0H-OOrGa8Z2wDFrw1wq98t4pVzGGZfHa9LouxsXIyq-BlcaW4Z6Epe1-Wka0fvGpFu8evglRQwLnaia95DBpOQ-Fk&__tn__=C-R
Among other things, MP Seah had written in a Facebook post, "PJ Thum and friends ( including Kirsten Han, Sonny Liew, Jolovan Wham) meet DR M, invite Dr M to bring democracy to Singapore, and suggest that Singapore is part of Malaya…
On August 31, Malaysia's 'national day', he (Dr Thum) posted an unusual greeting, Selamat Hari Merdeka to the people of the former Federation of Malaya', and suggested that Singaporeans should also rejoice on that day since it was Singapore's "unofficial independence day"….
Is it also a coincidence that they had accompanied Tan Wah Piow on this visit to Dr M? Tan was convicted for rioting in 1975 and slipped out of Singapore upon his release from prison to avoid National Service. Several of Tan's comrades from that time subsequently joined the CPM's radio station, 'Voice of the Malayan Revolution', in Changsha, China….
It appears quite clear to me that PJ Thum does not wish Singapore well. It is interesting that Kirsten, Jolovan and Sonny should associate themselves with Thum."
On his part, Mr. Shanmugam called the activists' actions "a little sad, a bit regretful" and said that a foreign politician should never be invited to intervene in domestic politics, calling this "an absolute no-no."
According to the activists, the statements of MP Seah have effectively incited accusations of treason. They claim that their lives are now under threat since people have called for their arrests, detention and even execution, and included screenshots as examples of these.
Therefore, the activists are calling for a review of Mr. Seah's "highly irresponsible" conduct.  In her post, Ms. Han wrote, "Pingtjin Thum, Jolovan Wham and I have sent letters of complaint to both Charles Chong, chairman of the Select Committee on Deliberate Online Falsehoods, and Lee Hsien Loong, Secretary-General of the People's Action Party, about Seah Kian Peng's allegations, which are unbecoming of a PAP MP and a member of the Select Committee."
They are urging the Prime Minister, who is the head of the People's Action Party (PAP), "to look into this issue, and take leadership in promoting responsible behaviour among members of your party."
They claim to have been grossly misrepresented by Mr. Seah, writing, "There was no reference to bringing democracy to Singapore, nor any request to interfere in Singapore's affairs. Mr Seah has not provided any other substantiation for his claims."
Furthermore, they claim, "It is highly irresponsible for Mr Seah and Mr Shanmugam – members of the People's Action Party in positions of power – to be making public allegations without adequate substantiation or evidence," especially since both Mr Seah and Mr Shanmugam are members of the Select Committee on deliberate online falsehoods, since they themselves are "making public allegations without adequate substantiation or evidence".
Ms. Han also invited others to write similar letters if they wish to express their "unhappiness with what's happened."
Unfortunately, some netizens seemed to have already formed an opposite opinion about the incident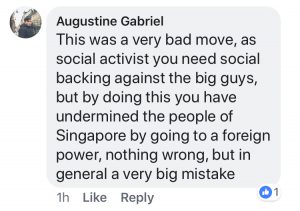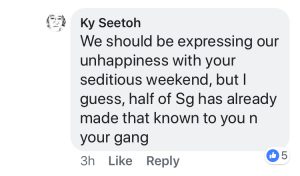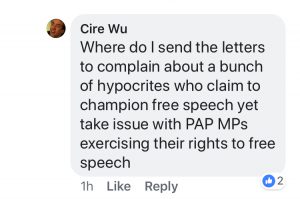 But there were also supporters who answered back the activists' detractors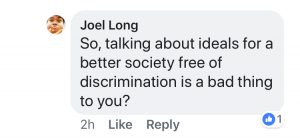 And others who voiced support for the activists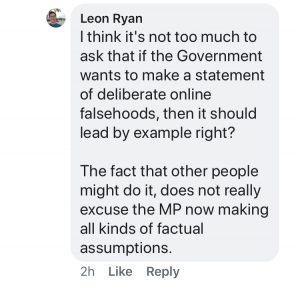 Others argued that MP Seah was merely exercising the right to free speech, something that the activists have embraced and advocated for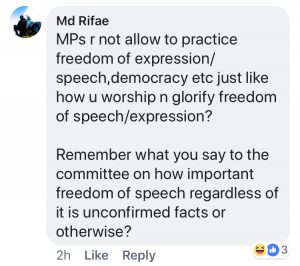 Follow us on Social Media
Send in your scoops to news@theindependent.sg