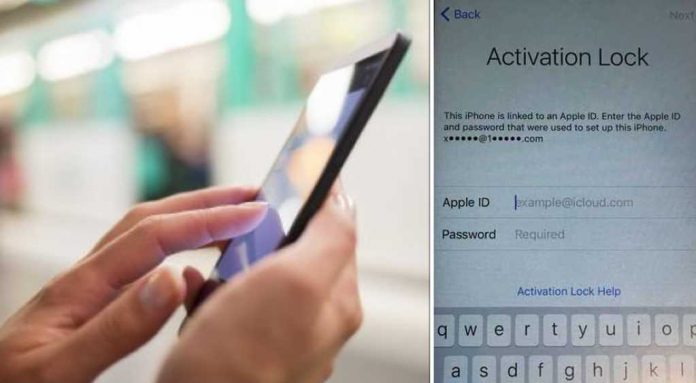 More customers who subscribed to mobile phone plans with Starhub have suggested that the telecommunications operator could be selling refurbished or old phones to those who re-contract.
The question of whether Starhub sells old phones to customers cropped up online after a customer, Facebook user Samantha Tan, shared a photo of an iPhone she allegedly bought from a Starhub store in Singapore, that shows that the phone is linked to a supposedly unknown Apple ID. Tagging Starhub's Facebook page, she said:
"Recontract from StarHub, got my phone delivered to my home. But when i on my iPhone for the first time, this image appeared. So is it Starhub selling refurbished phone?"
Recontract from StarHub, got my phone delivered to my home. But when i on my iPhone for the first time, this image appeared. So is it Starhub selling refurbished phone?

Posted by Samantha Tan on Wednesday, 21 February 2018
More accounts have been circulating online from customers who suggest this is not the first time Starhub has sold old phones to customers who should have gotten new devices.
One netizen – Balasubramaniam Tan who could be related to Samantha – shared her experience and asserted that selling refurbished phones is "as good as cheating customers":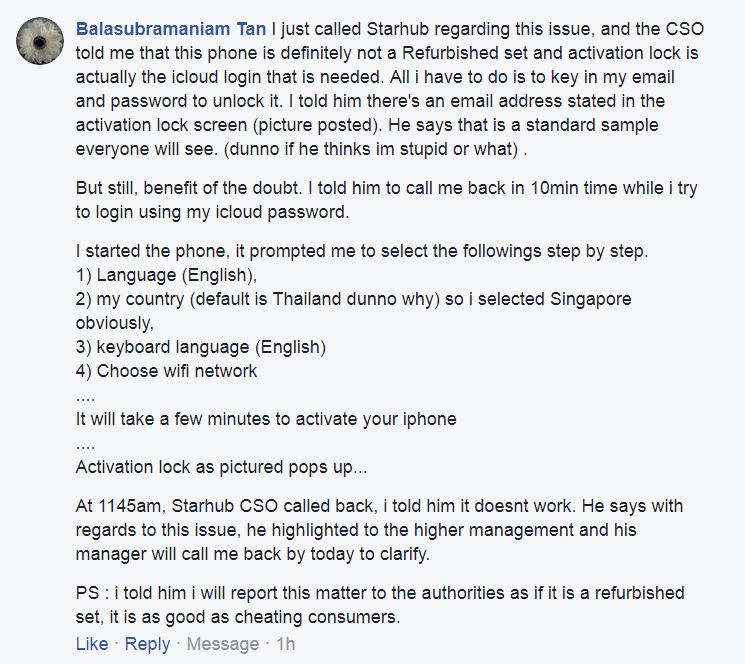 Another one of our readers, Yelin, shared that a new phone she had received from Starhub malfunctioned within a week, causing her to wonder whether her phone had been tampered with:
"I would like to share my recent experience since this article reminds me of my problem. I recontracted my STARHUB line on 2nd Feb 2018 through their online website and got myself a SAMSUNG NOTE 8. It was delivered to me on 6th Feb 2018. Everything is in order and I am quite happy with my purchase. After 5 days, the phone started failing on me. The sensors (accelerometers, proximity, ambient, iris, etc) all failed and self-diagnosis also showed failed sensors. I contacted Starhub about the issue and demanded for 1-to-1 exchange (within 7 days of purchase) and they redirected me to Samsung saying that it is not their problem.

"I checked the S/N of my phone and I found that it was produced in Sept 2017. I purchased it in Feb 2018. Could it be possible that it is just an old stock lying around in STARHUB inventory since launch or something else? I finally got an exchange new set from Samsung yesterday and it was manufactured in Feb 2018. So all is good now.

"Seeing this post, it raises some doubts in my mind as to whether the original phone I received might have been tempered with. Or it could just be me being extremely unlucky to get a bad APPLE (no pun intended). It failed within 1 week. Is there is any way to check the repair history of the phone via S/N or IMEC to confirm whether it's brand new or refurbished?"
Yet another netizen commented that the same thing happened to him and that Tan's phone is "definitely refurbished". He wondered if such instances are enough to build a case against Starhub:
"Definitely refurbished. Recontracted 2 yrs ago, got an iPhone 6s. The bloody phone model is not recognized by Apple when I checked my devices under my Apple account. It shows my MacBook+model, iPhone 5+model but not iPhone 6. It only displays name of my 6. I called Apple, they told me that happens if it's a refurbished set. Enough to build a case?"
Is Starhub selling refurbished phones to customers who re-contract?