Both noted socio-political commentators and netizens alike have slammed the founding of new opposition political party, the People's Voice Party, led by former National Solidarity Party (NSP) secretary-general Lim Tean. 53-year-old Lim had led the NSP for barely two years before he left the party in May last year to strike out on his own.
Lim revealed on Facebook yesterday that the Registry of Societies approved his application to set up the new party last week. Announcing the new party, Lim made bold claims.
Besides claiming that his party is here to "be in government" and not just act as a check and balance to the ruling party, Lim told reporters that about 600 people have expressed interest to join his party. He added, "We will formally approve and admit them into the party later on."
Lim further said that his party will employ a different leadership structure as compared to the other ten opposition parties in Singapore. Proclaiming himself as the party leader, Lim said that he will not be referred to as a "secretary-general" since he considers the title an "old-fashioned and almost communist term".
Lim said: "I am the party leader, but we do not have the secretary-general position in the party. We are doing things differently."
Last year, Lim left the NSP after a barely two-year stint as its chief, citing that his approach to politics is "fundamentally different" than the opposition party that has served in Singapore for over two decades, since 1987.
Following his departure from the NSP, Lim became known to some Singaporeans on social media through some self-produced videos in which he lashed out at the Government over various issues.
Over the past year, Lim has been characterised as a "serial money raiser" by some netizens who are still waiting on Lim to deliver on specific projects Lim raised money for but has yet to produce.
According to noted blog Thoughts of a Cynical Investor, one of these projects is supposed to be a "video explaining how to avoid getting sued for defamation" while another project he allegedly crowdfunded for was a jobs rally that was supposed to be held a year ago, in late 2017.
The administrator of Thoughts has been keeping a record of whether Lim lives up to his promises, since 2017. Earlier this year, the admin asserted:
"My serious point is that if Lim Tean wants to be taken as serious Oppo figure, he shouldn't be a serial fund raiser, who fails to live up to his rhetoric. Promising a video and jobs rally in November and not delivering, and then keeping quiet is a great way to build a reputation as a talk cock, sing song artiste."
Several socio-political commentators have responded critically to the announcement of Lim's new party. Daniel Yap, the co-founder of the now-defunct website The Middle Ground, wrote on Facebook: "I'm not sure if this is progress."

Sharing Yap's views, prominent economics commentator and ex-international banker Chris Kuan asserted on social media: "Waste of time, waste of space. Every opposition big f!@# wants to be leader." Kuan added:
"Maybe, like one or two of the oppo party leaders in the last GE, he wanna get into Parly through the backdoor, our mini proportional representation system otherwise known as the NCMP or as Low Thia Khiang derisively calls it "Duckweed!".
"WP honcho is absolutely right in my view. Juz go to show how far we are from lighting a fire up the PAP's exorbitantly remunerated ass and you can't blame the PAP entirely. The PAP is pleased. They don't need friends when they have enemies like this."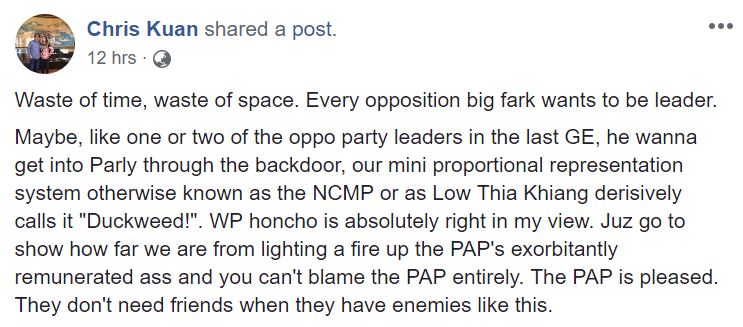 Speaking to TODAY Online, political analyst Dr Felix Tan noted, "We need to examine whether, firstly, Singaporeans are ready for a new party with little or no experience or success in political ambit to come into the fore," as he added that the new Party needs to concentrate on attracting members who are "cogent in their thoughts and not just with an axe to grind."
Several netizens appeared to agree with the SIM Global Education associate lecturer, asking why Lim is setting up a new party instead of working more closely with the existing parties to present a more united opposition affront to the ruling party in the next election: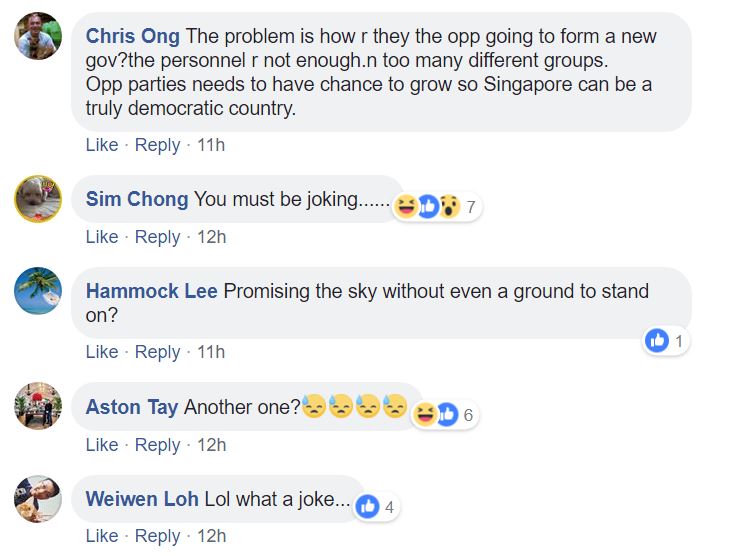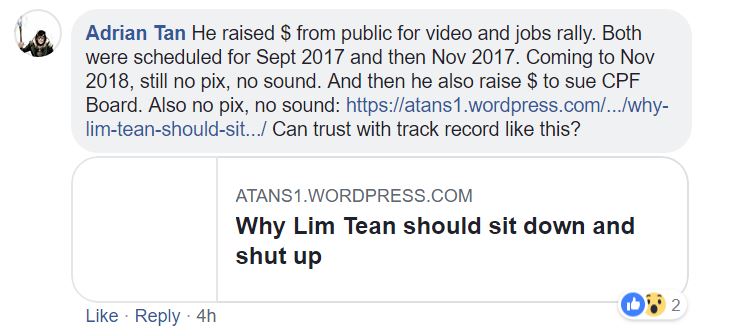 Send in your scoops to news@theindependent.sg