The Online Citizen's (TOC) chief editor, Terry Xu, has refused to comply with the demands set out in a letter of demand that Prime Minister Lee Hsien Loong issued to the publication, earlier this week.
On Sunday (1 Sept), the Prime Minister's Office (PMO) issued a letter to the editor of TOC, demanding that the website apologise and remove an article and Facebook post repeating allegations PM Lee's sister Lee Wei Ling made during the Lee family feud in 2017.
The letter put forth PM Lee's request that TOC immediately remove the article and Facebook post by Wednesday (4 Sept) and publish a "full and unconditional apology" along with an undertaking that it would not publish similar allegations in the future.
The letter warned that "PM Lee will have no choice but to hand the matter over to his lawyers to sue to enforce his full rights in law" if TOC does not comply.
Yesterday, on the last day of the deadline the letter gave TOC to make amends, Mr Xu responded to the letter of demand with a letter of his own. His response made it clear that he will not comply with the demands of PM Lee's letter of demand.
Mr Xu said in his letter that he is "of the opinion that the contents of the Article are not defamatory" and that he was "merely republishing" the words uttered by the PM's siblings. As such, he believes that the contents of the article "constitute fair comment."
The PMO also took issue with other false allegations in the TOC article. It said that one such allegation was that PM Lee had been removed as an executor and trustee of his father's will in late 2013 when, in fact, PM Lee was not included as an executor and trustee in any of his wills from 2011 onwards.
In his response letter, Mr Xu apologised for this and said that he did not intend to suggest that PM Lee was removed as an executor and trustee of his father's will because of the 38 Oxley Road gazetting issue.
He, however, added that stated that the article did not intend to raise doubts about the technicalities of the allegations but intended to focus on the "allegations of abuse of power and the state of the relationship between the late Mr Lee Kuan Yew and his son."
Mr Xu concluded his letter by stating that although he fears the cost stemming from a potential lawsuit brought on by the PM, he will not be complying with PM Lee's demands to remove the contentious article and Facebook post, apologise and publish an undertaking that he would not publish similar allegations.
Read TOC's response letter in full here: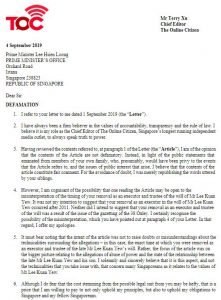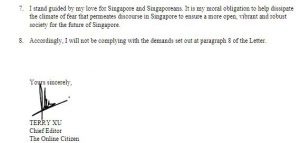 "PM Lee shouldn't have one standard for his family and another for the rest of us" – Activists respond to PM Lee's warning to TOC
Time Magazine brings up Singapore's press freedom rankings as it covers PM Lee's warning to TOC
Send in your scoops to news@theindependent.sg